Law firm marketing is a complex process, requiring thorough research and carefully executed strategies that help attorneys sustain growth in the long run. Whether you're looking to sign new cases through PPC or SEO, you need to segment your audience, identify your buyer persona, and target the most valuable prospective clients. We always talk about demographics and their potential contribution, and we consider US Hispanics to be one of the most significant demographic groups from which to build loyal clients.
Suppose you're familiar with our agency and our blog. In that case, you'll be familiar with the fact that we hold Hispanic marketing in high regard and consider the Latinx market to be the best demographic for law firms aiming for sustainable growth. In previous articles, we've explained why every law firm must focus on Hispanic clients, we've gone through the evolution of media consumption, and we've provided actionable tips on getting started with a Latinx legal marketing strategy. Today, we'll look into the most recent news on Hispanic population changes based on the most recent US census data as well as how this data affects opportunities for attorney marketing.
What's the evolution of the Hispanic population in the US in the last decade?
Latinx have been among the most significant contributors to population growth in the US during the previous decade. In fact, the most recent numbers indicate that the overall population growth rate is at its lowest since the 1930s. According to the latest census, the decimal count was 331,449,281 Americans, a 7.4% increase. Some of the main reasons for this slow down are the relatively lower birth rate and the Trump administration's immigration policies. The second is such a topic of discussion for the census because several analysts have theorized that the US Hispanic population has a potentially higher contribution than recorded. That's mainly because of previously undocumented immigrants. However with the DACA revival and some expected Biden reforms, experts see substantial future growth. For example, the former Attorney General, Eric Holder, raised some questions about the census results, highlighting the previous administration's pressure on immigrants, added restrictions, and the potential discouragement to fill out surveys. If you add the COVID-19 pandemic to all this, you can understand the reasoning behind the belief that US Hispanics have been undercounted in the recent census. Even under the current prism, the truth is the Latinx population has grown and accounts for 18.5% of the total growth.

If we look closer at some data and regions, we can get a better understanding. Let's begin with Texas. The 2020 census was progressing poorly due to a lack of investment that only started last September, months after the count's beginning. Undoubtedly, the state of Texas has one of the highest US Hispanic populations, accounting for 39.7% of the state's population. These delays and potential lack of sources could be additional reasons that lead experts to believe that further Hispanic contribution is possible. If we look at Arizona, another State with over 30% in Hispanic population (31.7%), we'll see that just $1.5m was invested. The limited resources could be a contributing factor that fuels the speculation of a more significant increase in the Latinx population.
Quoting Arturo Vargas, the CEO of NALEO:
"It's too much of a coincidence that these are three states with large Latino populations, and these are three states where Republican governors did not invest in their outreach efforts,"
Below you can see a graph from Statista showing the growth until 2019.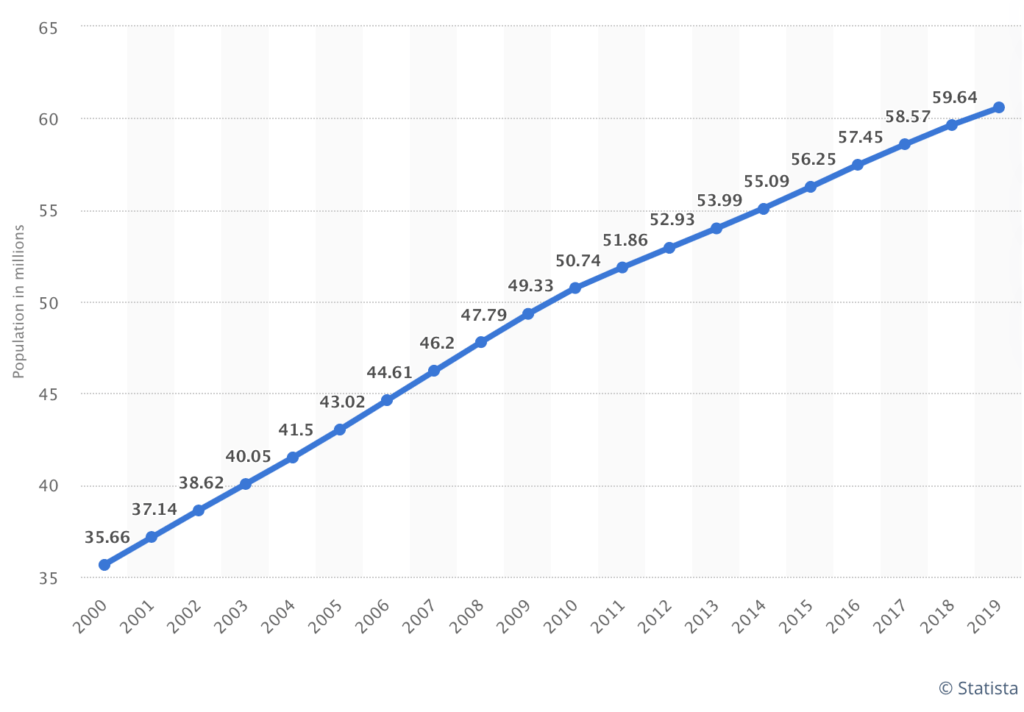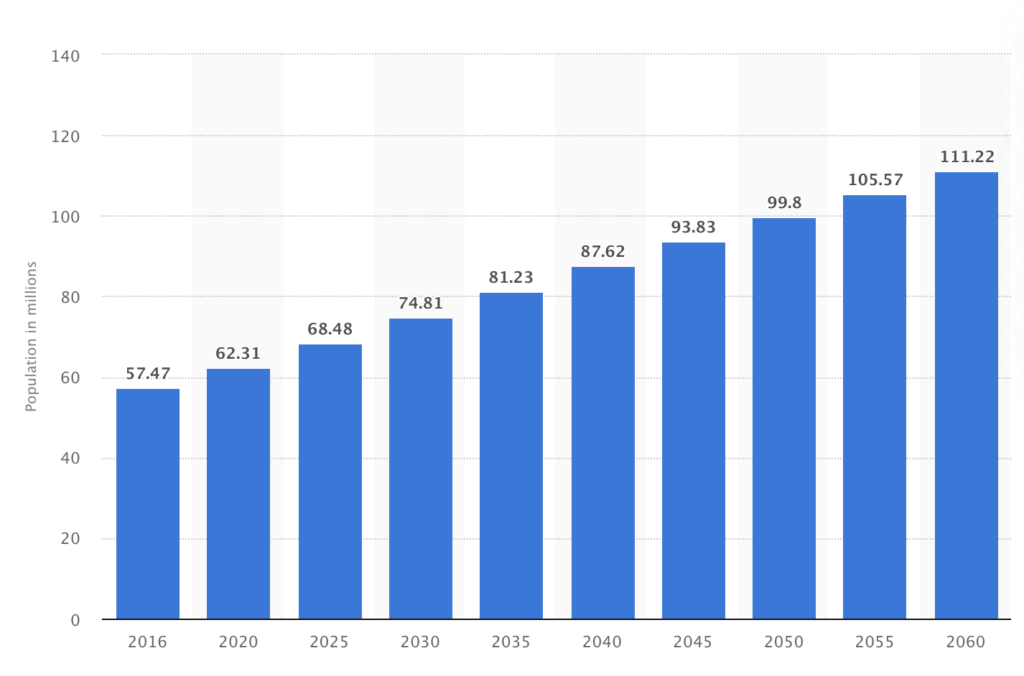 What do all these mean for law firms?
All the data combined with the facts that we demonstrated and everything we know based on our experience as digital marketers for law firms, lead us to believe that Hispanic marketing for law firms is the brightest opportunity and often the most significant untapped potential for attorneys that want to grow. This is especially vital for lawyers in markets where the demographic is dominant, for practice areas closely related to Hispanics, and for niche markets that have less competition for digital marketing strategies in Spanish.
How can a law firm capitalize on this opportunity?
1. Law Firm Google Ads in Spanish 
Google Ads are widely seen as the golden standard in paid digital marketing. But sometimes, in specific markets and practice areas, Google Ads in English can be an extremely competitive and expensive option. That doesn't diminish their value, but we see the real opportunity and untapped potential in Hispanic Google Ads. Let's look into a particular example. Suppose you're an attorney handling criminal law cases in NY. The search volumes are extensive in English, averaging close to 20k queries. When looking at Spanish, we stand at 1k, lower than in English, but still significant and meaningful. The first real opportunity kicks in the CPCs, where high intent keywords are at under 60% of the cost per click in English. If you combine this with the booming loyalty of Latinx clients and their mobile affinity, you can understand why Google Ads in Spanish should be your first choice for sustainable law firm growth.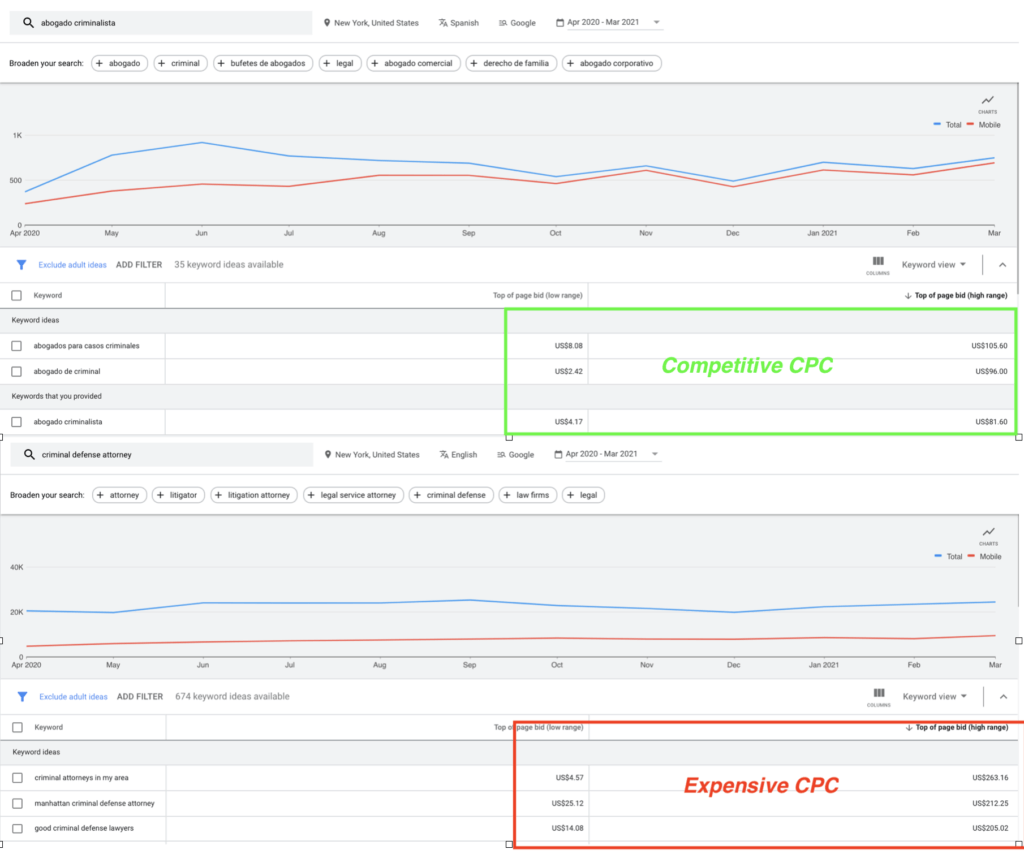 2. Law Firm SEO in Spanish
Organic traffic is highly desired by all attorneys (and every business), especially for high intent queries. After all, while it's a strategy that requires long-term commitment and resources, it can pay back big in the long run. The differentiation we see in Spanish SEO for law firms is, again, the untapped potential. First, not all law firms have the capability to handle cases in Spanish (if that's the case for you, you can look into our guide on how to sign Hispanic clients without speaking Spanish). Additionally, we've come across a significant pool of Spanish-speaking law firms that either have a "Se Habla Espanol" icon or a couple of translated pages on their website. Finally, there are others, the majority, that simply translate their content for their Spanish website, converting pre-existing content. Do you already see the opportunity here? While it's still a very demanding process that will take time, a carefully researched and executed legal content strategy that will reflect your law firm's buyer persona, combined with content transcreation, can increase your chances to rank high and dominate the SERPs.
Extra Tip: Combine Spanish Google Ads with SEO to increase your chances for newly signed clients. This holistic strategy will allow you to dominate the SERPs and get in front of prospective clients at a higher frequency.
3. Law Firm Social Media in Spanish
Here are some examples of us combining organic posting for law firms and social media ads in Spanish. We recommend you combine them asa well for optimized results. Having a thoroughly researched and adequately executed strategy in Spanish will help you raise your law firm's brand awareness and simultaneously get you in front of prospective clients. US Hispanics are heavy mobile users and spend a significant percentage of their day on social media, making them ideal prospects for social media campaigns.
Remember: Social media isn't just Facebook. You can benefit from an extensive presence on Instagram or even Tik Tok, where we have already spotted some attorney-superstars.
---
Time for our takeaways:
The most recent US census has reported a slower than usual growth rate in population, which can be associated with particular conditions related to the Latinx population.
Experts believe that US Hispanics have been undercounted, due in part to the Trump administration's policies and the limited invested funds in some core states with high Hispanic populations.
The significance of US Hispanics keeps rising, and the projections show further growth in the coming years. All these make them the ideal demographic for law firms that want to grow through digital marketing.
Whether you choose PPC, SEO, Social Media, or a holistic approach, your local Spanish-speaking community represents the brightest opportunity, and in many cases, the most considerable untapped potential.