Have you ever wondered how you can get inside your future clients' heads? Sonic branding makes that possible.
Cellino & Barnes,
Injury attorneys,
(800) 888-8888
Recognize the jingle? Does it play in your head automatically when you read the name? New York law firm Cellino & Barnes' jingle has played on television for over 25 years. But it became a viral challenge in 2018 after a Broadway actress posted a cover of the song on Instagram.
There is a good reason for that. Brands that use music that is aligned with their brand identity are 96% more likely to be remembered, a Leicester University study found.
Let's explore the colorful world of sonic branding and how your law firm can leverage its marketing strategy through catchy music.
What is sonic branding?
Music evokes memory. When it comes to a solid marketing strategy, audio can be a powerful tool to speak to potential clients, literally.
Sonic branding is precisely that: The sound of a brand. We can think of many examples at the top of our heads. Customers constantly relate sound to the brands they love from a simple tune like Apple's to an elaborate jingle like T-Mobile's.
Sonic branding goes beyond picking a random sound effect and adding it to your marketing. When you develop an original sound that clients can associate with your product or service, voilá! You will have successfully created a sonic branding strategy.
While sonic branding is not the only component of your brand experience, it is a memorable aspect of it that effectively draws in potential clients when done right.
Before you can decide whether investing in a sonic branding strategy is for you, let's examine the psychology behind sonic branding and its benefits as a marketing tool.
The psychology of sonic branding
There is a misconception often thrown around that people remember "10% of what they hear, 20% of what they read, and 80% of what they see." This phenomenon is called the "Picture Superiority Effect" since images are more likely to be remembered than words.
However, this idea has been long labeled a fallacy, with fake statistics being passed around as truth. In reality, people that are exposed to different stimuli can interpret the information better and increase the likelihood of memory.
While visual communication has become the king of digital marketing in recent years, sound is a huge part of the overwhelming success platforms like Instagram and TikTok have seen through their reels feature.
Here's interesting data from the U.S. Occupational Safety and Health Administration (OSHA):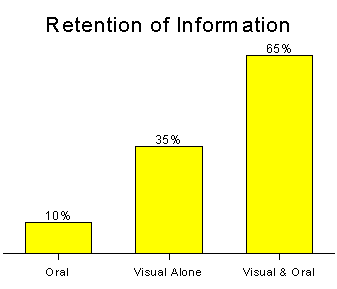 In short, a combination of sound and visuals will get you better results. Don't immediately discard the power of sound as an important aspect of your marketing just as visuals are.
Here are some psychological advantages of a sonic branding strategy:
Music can trigger emotion: We all have particular sounds and songs that take us back to a childhood memory, or perhaps, to a happy moment. Using music in your advertising can help trigger positive emotions that people will later associate with your brand.
Speak directly to people: Through music and sound effects, you can communicate effectively with your target audience without blatantly advertising your brand.
Attractive marketing: Sound is more than catchy jingles and tunes. Sound can provide a colorful, engaging experience to the person watching your ad. This is a way more attractive form of advertising.
Does the idea convince you already? We explain the two major options you can choose to get started with a sonic branding strategy.
Types of sonic branding
Tagline Jingles
"Maybe she's born with it,
Maybe it's Maybelline."
This is a widely recognized jingle from cosmetics company Maybelline, voted "most recognizable" tagline by Marketing Week in 2013.
Tagline jingles are designed to stick in the audience's mind. They are short and sweet, but powerful enough to convey a message about your brand. These musical catchphrases often last no more than 30 seconds to a minute.
It is also important to keep in mind that tagline jingles are meant to make your brand stand out from the competition. Thus, when brainstorming your next tagline, ask yourself: What is one thing that brings value and uniqueness to my brand?
Brand music
By using catchy, original music in your advertising, you can take your brand identity to the next level. Take a look at one of our partners, The Law Firm of Oscar A. Garza, and its brand video:
This connection between your law firm brand and a song maintains you in your audience's minds, making it easier for them to remember you and what you can offer them.
---
Our takeaways
You don't have to spend $15 million on a sonic brand strategy like Mastercard did in 2019 to leverage your brand identity with sound.
If you're looking to invest in a solid sonic branding strategy, we encourage you to work alongside experts who can help you identify your brand's most attractive assets and turn them into catchy, fresh music.
With sonic branding, you can:
Increase brand recognition
Create brand consistency
Differentiate from your competitors
Save time and money in the long run
Positively alter perception
There are way more pros than cons, if you ask us! Don't be afraid to explore the array of options to increase your brand identity already waiting for you.