Law firms handling criminal law cases are often overlooked when it comes to their digital marketing efforts and strategies. But what happens when attorneys understand their capabilities and the future needs of their prospective clients, and attract interest and build awareness through social media platforms?
Most of the time, when digital marketing experts talk about law firm marketing, they focus on Personal Injury, Workers Compensation, or Immigration and Bankruptcy attorneys. Of course, that's certainly understandable, if not predictable, as those law firms tend to have the most robust campaigns and budgets. Today, we'll differ and put our focus on Criminal Law. We'll highlight attorneys who do it right through social media platforms and give you ideas and actionable tips on how to get in front of your prospective clients and create brand awareness that will help you sign more cases.
We'll kick it off with the most unconventional social network of all, especially for attorneys. That's TikTok. If you're familiar with our blog, you might remember that, back in March, we explored the capabilities of TikTok for law firms.
Pick topics of interest and valuable cases to your law firm that are considered fairly common. Then, create informative videos about them. Talk about what people should do to avoid ending up in difficult and unpleasant situations and explain interesting and relevant facts. In this category, we've singled out the TikTok of Criminal Lawyer, @lawyermarc who's doing a great job educating and helping users.
Create a series of Q&As. Start by noting the most common questions prospects ask when getting in touch and then involve your community. You can collect their queries in different ways. Then, by showing it on your TikTok, you can show that you're actually replying to people in your audience. Another great example is @lawyerpaige who is doing an extraordinary job at this and has created a large fanbase that asks questions and gets the answers.
Tip: Add the appropriate hashtags and produce material at a steady pace. That way, you maximize your chances of growing your audience and maybe even trending.
Next is Instagram for Criminal Law Firms. It's not as unconventional as Tik Tok, and it offers multiple options for attorneys who want to get involved with their community and be there when prospective clients need them. We've devoted an entire article on how to use Instagram for Law Firms, so let's see a few examples of what Criminal lawyers are doing right.
First comes the overall setup of the Instagram account. From the profile pic to bio, info, and highlights. Here, we've singled out a Hispanic law firm handling criminal law, among other things, that isn't located in the US but in Latin America. @Marvalofarrel is doing a great job with their setup, and we suggest checking them out for tips on your own practice. Plus, they are Hispanic, so you can get additional tips on what Hispanic prospective clients are looking for and are more likely to interact with.
Moving to Instagram posts, we've got to point out @jglawyer9. His law firm is doing a fantastic job posting about happy clients by sharing their stories and how their attorney helped them get out of trouble by giving them a fair chance against criminal charges.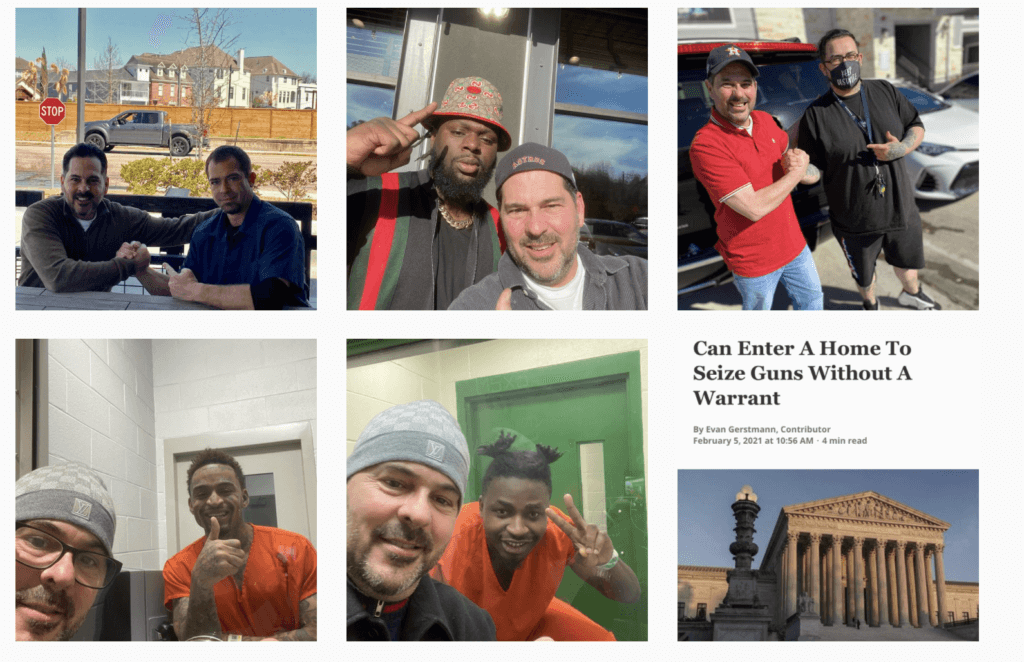 The last part is all about stories. We haven't chosen a single account as these are disappearing posts. Still, they are a great way to help you get more interactions and present a significant opportunity for community involvement and DMs.
Twitter is probably the social media platform that professionals are most afraid of. And that sometimes is understandable, as the platform is known for content backfiring. For Twitter, we've spotted two law firms handling criminal law cases and doing exceptionally well.
The first is based in South Africa and has built a great follower-base of over 3000 people. They're sharing relevant news and educating their community without any immediate promotion of their services. For us, that's the way to go on the platform.
The second one goes to a San Diego-based criminal law firm. We've singled out here their regular updates, the repurposing of their content, and the sharing of blog articles, photos, and sometimes videos relevant to their community.
Here is an example of the Twitter community making criminal law posts go viral. Some may take it as partially negative but such publicity can be a massive step for social media brand recognition.
criminal defense lawyer posting is my favorite pic.twitter.com/q4zkBBJjNw

— CointelProVEVO (@facebookvillain) February 28, 2021
And last, but definitely not least, comes Facebook. Here we've got a separate article going over a full range of Facebook posts your law firm should be posting every week. At a glance, we'll present the top tips below.
Share success stories and moments with your clients, or just enrich them with photos and videos.
Hand in hand goes the sharing of reviews and testimonials. Who isn't proud of all the positive words about their law firm? Check out how this law firm from Galveston, TX is handling their reviews.
Use Facebook live for video sessions, either  through Q&As or by talking about your experiences or particular achievements. You can see an example of another law firm handling Criminal Law cases.
Finally, Facebook is a great place to repurpose your existing content. Be it videos you've uploaded on YouTube, articles on your blogs, or even newsjacking.
While most of the time, experts concentrate on law firms handling Personal Injury and Workers Comp cases, lately, we've seen several Criminal Law attorneys taking over the various social media platforms. Starting with Facebook, the most commonly used, to Instagram, Twitter, and even the more unconventional TikTok. If you are a lawyer handling criminal law cases, you can find excellent ways to promote your practice, create brand awareness, and get in front of your community and prospective clients. If you still need guidance, we are here to help, so don't hesitate to get in touch with us.