Are you looking to partner with a PPC agency for your law firm's needs? In this article, we go over the questions you need to ask before deciding.
Digital marketing for your law firm is a full-time job, requiring concrete skill sets and a devoted team. Some attorneys choose to do it by themselves. Others work with an in-house team. However, the choice for a maximized return on digital marketing investment is working with a specialized digital marketing agency for law firms. How can you be sure that you are making the right choice, though? Today, we'll explore the top fifteen questions you need to ask before partnering with an agency.
How do you choose the ideal PPC agency for your law firm?
Are they Google Partners?
Let's first understand what Google Partners are and why it's crucial to only work with certified agencies. It's an official certification provided by Google, and it means that the Partners have taken and passed specific exams and are staying up-to-date with all the latest updates. Google measures particular aspects, including company performance with a focus on sustainable digital growth and a steady ad spend over a minimum threshold of 90 days. How can you tell? Google provides a badge that you should be able to find on the agency's page. We, at Nanato Media, are certified Google Partners.
Tip: Conduct your research, but always remember to check for the badge. If Google approves, you should start to feel reassured.
What about the contracts?
PPC is such a powerful and beautiful tool for law firms as it starts working from day one. Of course, performance improves over time, as Google comes to better understand your ads and begins (hopefully) to attribute you with high-quality scores. The agency you choose should be confident enough to know that you will start seeing results by the end of the first month. They should make you optimistic about the future and eager to keep working with them. Flexibility is a factor, but keep an eye on agencies that don't require any commitment. They might be in the business of attaining many new clients every month without the ability to retain them. A six-month commitment is reasonable for any agency that is confident in its ability to yield results while also keeping in mind the optimization processes and the historical data Google requires to attribute high Quality-Scores.
Fact: Yes, we are confident, and we offer plans starting from a six month commitment.
How do they measure success?
Traditional media couldn't and still can't give detailed, measurable metrics about your marketing campaigns. The beauty of digital marketing, and PPC, is that your law firm can know almost every detail. This includes how prospective clients found you, how long they stayed on your page, where they clicked to call, and, ultimately, how much they cost you. Do you want to work with an agency reporting back to you with clicks, impressions, and conversions, or do you want to get reports focussing on your qualified clients? The answer is simple and obvious; you want the second option. That's why we strongly recommend you ask about call and conversion tracking.
Fact: Metrics are among the biggest challenges for a law firm's digital marketing. Make sure that you concentrate on what matters for each campaign.
What do their clients say about them?
Reputation management is such an essential aspect of the customer journey nowadays. Your clients are researching your law firm's reviews. Why shouldn't you do the same? Some agencies show client testimonials on their websites. If that's the case, you can certainly start there, but this alone isn't enough. You'll need to dig deeper to find the most comprehensive reviews. Ask if they'll allow you to contact a client, ideally the last client that left the agency. There are restrictions on this, and it might not always be possible, but you will gather valuable information from the reactions you get. Finally, make sure to search for official legal events and organizations you recognize and trust. Only vetted agencies get access as vendors in such circumstances, so this is an indicator of credibility.
Fact: Word of mouth and personal connections are valuable. Research within your network and ask other attorneys you know and trust.
What software and tools do they use?
Cutting edge software for all steps of your law firm's PPC, from keyword research to analytics, is what makes your campaigns targeted and more efficient. We use multiple sophisticated tools that make your campaigns reach their full potential, including CallRail, Optmyzr, and Unbounce.
Tip: Ask and insist on this question. Don't expect to get a complete list of every tool an agency uses; however, there's no reason why they shouldn't give you some examples of tools they'd use for your legal digital marketing. Agencies are often proud of their sophisticated software, so look for partner badges on the agency's website.
How are they handling their marketing?
Search for them on Google. Are they ranking organically for their primary services and keywords? In our specific case, our focus is on bilingual digital marketing for law firms. Perform the query, and you'll find us ranking first. Are they active on social media? If you get on Facebook after visiting their website, do you see them there? That's part of retargeting, and if an agency is preaching about it, shouldn't they be following it too?
Organic results for bilingual digital marketing for law firms: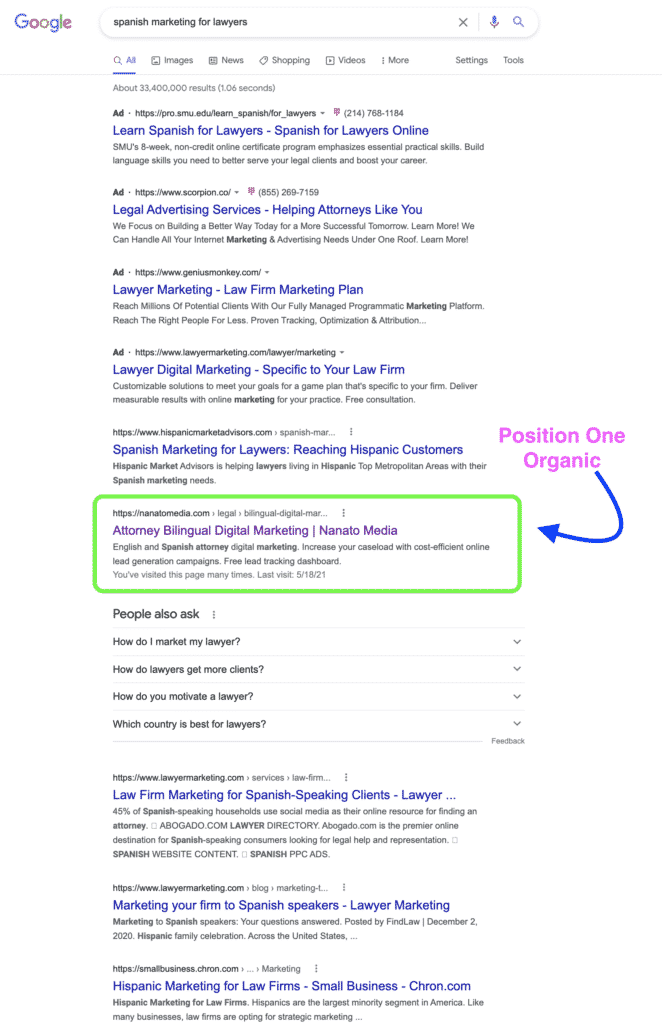 How fast do they respond to your inquiries? 
It all starts from the very beginning but becomes even more important as soon as you become an actual client. You should be getting a response within an hour, or at least on the same day. That's marketing 101, and if an agency is not following it, it means that you should look somewhere else. What can you expect from an agency that is slow in answering your new inquiries? It will only worsen once you become a client and have more complicated matters and questions.
What about Hispanic digital marketing?
If you are investing in legal digital marketing in Spanish, research their experience with Hispanic audiences. Is the agency fully bilingual? Do they have a proven track record of running and managing effective Google, Facebook, and SEO strategies in Spanish? If you can't find at least one native speaker every time you call the agency, that should be a red flag. Our agency is fully bilingual, and we speak to your prospective clients culturally. With Nanato Media, you can rest assured that all your content, such as your law firm's ad copy and landing pages, is transcreated and appealing to the Hispanic culture.
Tip: In this article, you can explore the reasons why you need to run Spanish Google Ads for your law firm
How do you get charged for your Ad spend?
Once again, transparency is critical. You need full disclosure at this part. Otherwise, you might suspect markups on your ad spend. A reliable way to control this is by getting direct reporting from your accounts, such as Google, Facebook, and other platforms, showing your activity and your ad spend. If you get these reports and get debited directly, you can rest assured that there are no hidden costs.
Can they track and prevent fraudulent clicks?
Fraudulent activity, no matter how unethical and unfortunate it is, can originate from multiple sources. Click bots, click farms, and competitors can create fraudulent activity and worthless clicks that harm your law firm's digital ROI. The agency you select to work with needs to monitor activity by IP tracking, ensuring that you are not getting spam activity or clicking from competitors that aim to deplete your budget.
Tip: Ask the right questions. Request an example of how they handled such a situation and get information about the tools and systems they have to dispute fraudulent activity.
Before:

After:

Do they have experience with legal marketing?
The most significant value you can get from a digital marketing agency is understanding digital strategies and applying them for your desired outcome. Sometimes, your law firm's specific needs require the corresponding experience, and therefore you should try partnering with a professional team with a proven track record. We, at Nanato Media, have vast experience in working with law firms for their bilingual campaigns (English and Spanish), and we help you stand out from the competition.
Who is handling your campaigns?
It's essential to have a point of contact, a person you know and can build trust with. Ask if they outsource any of your activities. How do they ensure that all your efforts are of the highest quality, including your content writing, ad copy, and display assets? We, at Nanato Media, handle everything internally, making sure that all materials are of the highest quality, follow the best practices, and are relevant to your law firm's branding and image.
Are they interested in understanding your brand and your core values?
This is a complicated question, but before selecting your partners, you should try finding out if you share the same core values. Do they understand what you stand for and where you're coming from? An agency must carefully research your law firm to get a 360-degree view of your law firm and your brand image. Relevant and distinguished copy can only originate from agencies that put a unique focus on each client and don't try to plug your law firm into a copy-paste strategy.  We perceive law firms as brands, and we don't work in a silo; on the contrary, we are enthusiasts of holistic digital marketing approaches.
How often do you see reports on your campaign's performance?
The agency you choose to work with should provide live information that matters the most to you and your law firm. It should include your new leads and details about when, how, and where they are converted from. Our approach is straightforward; you get access to your personal Lead Tracking Dashboard, where all data is live, and you can score your leads, qualify them, or even listen to your calls. In addition to our direct and user-friendly reporting, we offer video conference meetings, so you can prioritize your activities and go on with your day uninterrupted.
Do they offer coaching services to maximize results?
The ultimate goal of your law firm's PPC campaigns is to sign more new cases and maximize your ROI. Your agency should be able to help you get the most out of your digital marketing investment by actively providing feedback. Your partners should monitor your intake process and conversion pipeline, identifying any missed opportunities that are holding you back or areas of improvement that can further improve your results. If you are running bilingual Google Ads campaigns and you don't speak Spanish, you need your agency to give you direct feedback on your Spanish-speaking team's performance. The same applies if you are using external partners, such as call centers. We work hand-in-hand with our clients; our experience lets us identify all the pain points, explain missed opportunities, and find ways to capture them.