Social media apps, like Facebook, Instagram, or Twitter, are on the rise and have seen their user-count skyrocket lately, especially amid the COVID-19 pandemic and social distancing lockdown restrictions. Multiple law firms across the nation include them in their digital marketing mix, and we've got to admit that on many occasions, we've seen excellent results. The question that currently arises is if there's room for more social platforms. 
On previous occasions, we've looked into several social media networks as they relate to your law firm's opportunities. We've covered the ideal Facebook placement strategies for attorneys. We've looked into specific practice areas (like Personal Injury) and how lawyers can sign more cases through social media ads. We've explained how you can drive more traffic to your website through Instagram, and we had an early look at TikTok, discussing whether it might be the next big thing for law firms. As we keep our eyes and ears open, we've seen the increased hype and "air-time" a new social media platform is getting. That is the Clubhouse App, and today we're going to give you an overview of its capabilities, a first look at its potential, and an assessment of some of its specifics.
What is Clubhouse, and why is everybody talking about it?
Clubhouse is a relatively new social media app that launched in April 2020 (less than a year ago). What makes it so unique? Firstly, it's an iPhone-only app. You can find it on the app store, but as of now, there's no option for Android (or other OS) users. The next significant differentiating factor is that's it's not open to everyone. To use, you either have to join a waiting list and get invited or be lucky enough and have someone who's already a member extend an invitation to you. For the time being, there's no word on making it available to the general public, and this seems to create a real buzz around it, with an exclusivity feeling that makes it the new sensation. But what is Clubhouse actually about?  It's an audio app that allows you to create audio conversations. As you can read on the app store page: "Clubhouse is a space for casual, drop-in audio conversations—with friends and other interesting people around the world. Go online anytime to chat with the people you follow, or hop in as a listener and hear what others are talking about."
That is what you'll see if you check the app's webpage: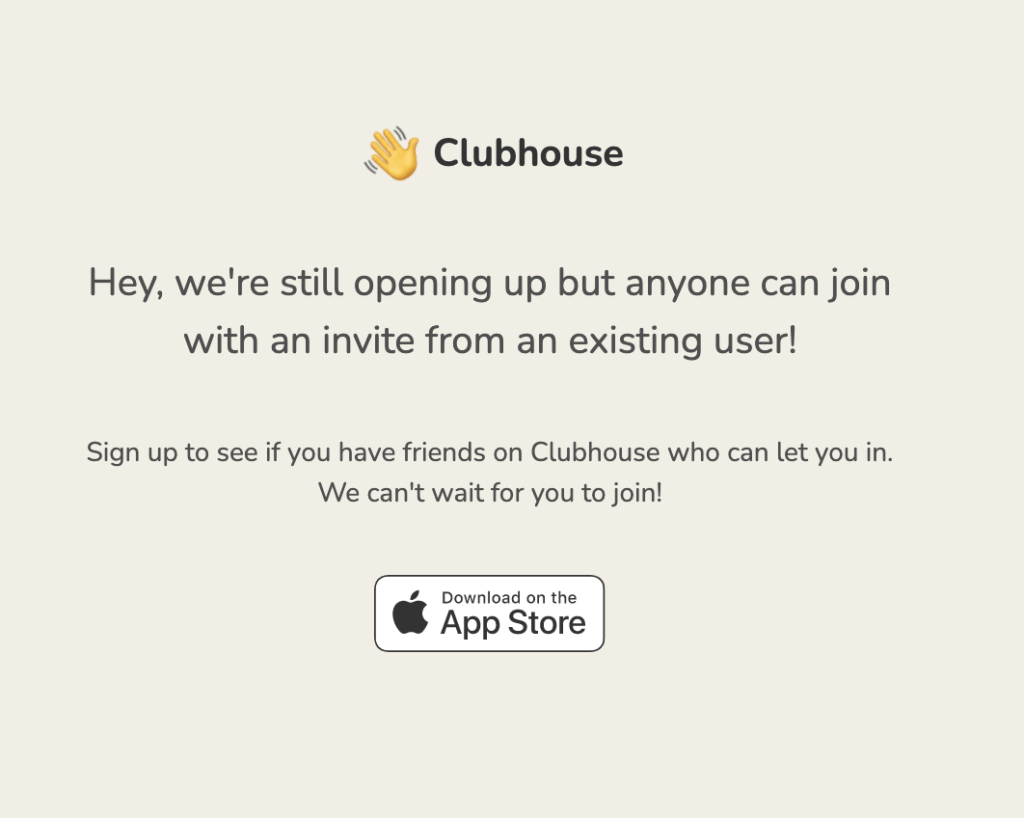 All these sound interesting and potentially intriguing, but are they enough to give the app that "internet sensation" status it has achieved lately? It undoubtedly started off strong, and after a month of operating, it reached a valuation of $100m, with a bit over 3.500 active users. Things took off in the following months, and users climbed to 600.000 in December 2020, but the tipping point was January 2021 when Elon Musk talked about Clubhouse in an interview. It's nothing new to have something skyrocket when Musk talks positively about the service or product. After all, remember what happened with the signal app earlier in January? In January 2021, active users already crossed the 1m mark, and it's expected to see this climb even further, as a couple of weeks ago, Elon Musk announced that he'd be co-hosting on Clubhouse with Kanye West. Where might this all lead? We can't be sure, but with an Android app in the making and with more people trying to get in, we can see its value hitting heights way over the current $1b, and nobody can make a prediction about the active users.
Here you can see the Elon Musk tweets: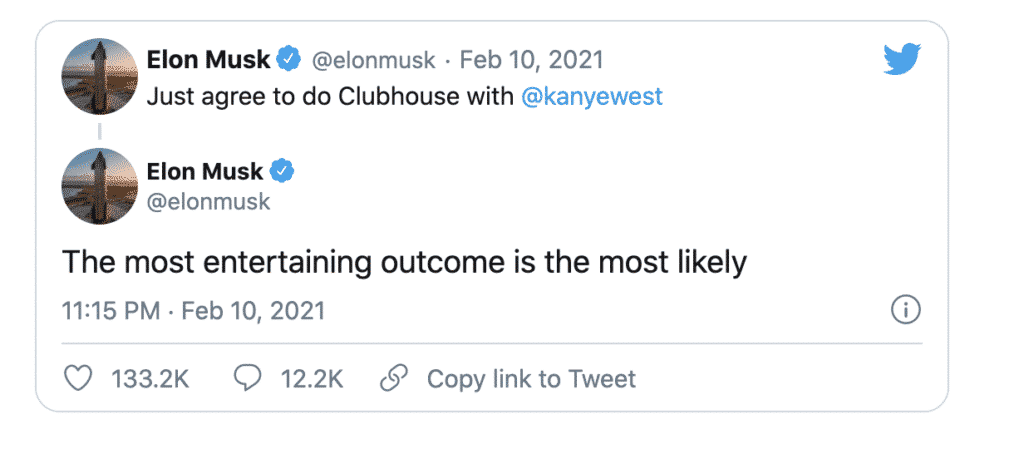 And this is the graph showing the app's active users: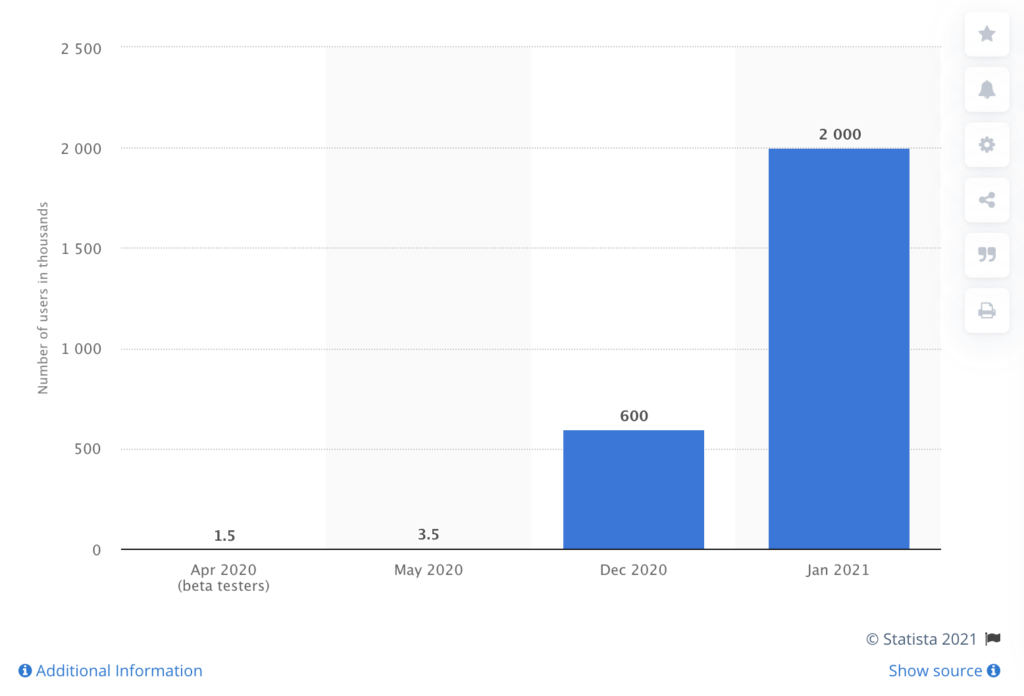 Our early prediction is that they should definitely try getting on the app. People who join and spend time on Clubhouse are after exciting topics from influential people. It means that it could be a social platform where you shouldn't directly try advertising your services but if you manage to get in, here are some interesting ideas for you:
Talk about a trending legal-related topic, using your experience and perspective to educate and potentially entertain listeners. It could be, for example, your experience as a Texan attorney going through the mid-February blackout.
Create a talk-show with another fellow attorney member of your community, exchanging questions and creating an interactive FAQ session that gives tremendous insight to the listeners. And remember, it's also about entertainment, so some hints of fun would surely be appreciated here.
Join other Clubhouse rooms that could be related to your interests, take part in the conversation, ask questions, and maybe even co-host with other members.
The app is invite-only, but getting an invite means somebody who knows you gave you access to their contacts. Nowadays, individuals highly value privacy, which might be a concern for people who don't want to share that kind of information.
There are reports of unclear moderation policies on the Clubhouse app. You can read about some of these concerns in the article from Vice. 
There are concerns about incidents of cyberbullying, antisemitism, and misogyny, as well as the spreading of inaccurate information, especially regarding COVID-19.
All these remain to be seen as the app matures. Hopefully, it will be a tool of fun, education, and positivity, leaving no room for hate speech or bullying.
What are the key takeaways?
It's still very early in Clubhouse's short life to assess it, but it's becoming an internet sensation, followed by highly influential personalities.
The feeling of exclusivity, together with some of its unique characteristics, create an atmosphere of rising interest.
Our suggestion is to keep an eye on the app, and if you don't have issues with the potential privacy settings, join it. It could soon prove to be an unconventional way of creating awareness for your law firm, getting involved in topics that matter, and getting recognition from your community.