Digital marketing for Law Firms and PPC can be a somewhat competitive scene. Several Attorneys target similar keywords and aim for the top spot with one goal in mind. Conversions and new signed cases. Are you paying attention to the details that will help you stay steps ahead of the competition?
Suppose you are already investing in digital marketing for your Law Firm or considering it these days. In that case, you probably already know that there's little room for error, especially if you want to maximize your ROI and sign the best prospective clients at the lowest possible CPA. Experts considered bilingual PPC for Attorneys as one of the best investments, as it can yield immediate results and help secure the most suitable cases for each practice area. On our blog, we've covered multiple topics around optimizing your Law Firm's PPC campaigns, such as creating your Buyer Persona, identifying the right negative keywords, and tracking your calls to action. Today, we'll look into a powerful tool, provided for free by Google, to all advertisers. That is the Google auction insights tool. Let's find out what it is, how you can leverage it, and what it means to your Law Firm's success with bilingual PPC.
What is the auction insights tool?
Let's take it from the beginning. Google Ads take place as an auction. Whenever a search query is happening, Google uses bids from each advertiser to determine if it'll show ads and in what order. Below you can find a descriptive GIF provided by Google. In the bidding process, Google considered various elements, among them your Ads Quality Score.
That being said, the auction insights tool allows you to find statistical information about your ads and compare them with other Law Firms that are competing for similar keywords and markets. All the information you can get from this tool can help you make strategic decisions, plan with a long-term vision, budget more efficiently, and spot untapped opportunities or areas of improvement.
Below you can see how you can find the auction insights tool on your Google Ads account.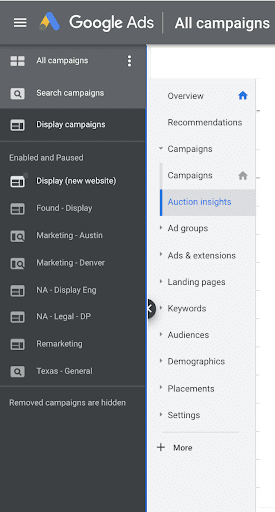 What data can you get and how to use them.
Impression share: That's the first statistic you should look at. It allows you to determine the number of impressions your Law Firm's ad is receiving compared to the total number of available impressions. Why is that important? First of all, you get to see your competitors, all in one place. You no longer have to wonder who else is showing ads. Additionally, you do not only get the opportunity to see how often searchers see your ad, but you can benchmark against your competitors.
Overlap rate: In simple words, it shows how often you and the given competitor(s) show an ad simultaneously. If, for example, you are a Workers Comp law firm offer a search network ad for "abogado de accidente de trabajo" in New York,  you can find out who else shows up when you do and how often. A 50% overlap rate would mean that half of the times searchers see your ad, they also see the particular competitor's as well.
Position above rate: This is only available for search network ads, and it shows the percentage of another competitor's ad shown over yours. If, for example, another Law Firm's Google ad gets a 20% above rate, it means that 1 out of 5 times, it's getting a position better than yours.
Top of page rate: That's another one exclusive to the search network. It's an indispensable piece of statistical information as it shows how often your ad appears over the organic results. You don't want your ads to go at the end of the page. They'll get unnoticed, and you will end up having poor results. Additionally, you can also get the stats for your competitors, benchmark against them, spot the most aggressive and effective bidders, and alter your strategy accordingly.
Absolute top of page rate: Again, only available to the search network. What's the ultimate goal for your ad? To get the top spot, appear on the top of the page as ad number 1. That increases your opportunities for more clicks from high-intent prospective clients that can become your desired new cases. Like what we mentioned above, you can also see your competitors' stats and understand who's often showing at the absolute top of the SERP.
Outranking share: It's the percentage of your ad showing over (outranking) the Google ad of a particular competitor (another Law Firm showing ads). It also takes into consideration the times your ad got an impression while theirs didn't.
Now that you've got an understanding of all the statistical information you can get from Google's auction insights tool, we suspect that you might already be able to determine a few reasons, but let's sum it up. First of all, you get crucial stats about your Law Firm's PPC performance. Of course, what counts the most is conversions and signed clients, but how can you maximize your opportunities if you don't know your numbers? The second reason why you should start using the tool is that it allows you to spot your competitors. As soon as you access it, you get a full list of Law Firms bidding on the same or extremely similar keywords as you. You might already be aware of some of those Attorneys as you are present in the same market, but now you get to see who is investing in the same channels.
It doesn't end here, as, through the auction insights, you get to spot untapped potential and missed opportunities. If your ads are performing well, you might want to see what else you can do to capitalize on this success. On the other hand, if you're not satisfied with the results, you can understand what's going wrong, find out who's doing it better and benchmark against them, increasing your chances to surpass them. Finally, by keeping a consistent eye on these stats, you can gather information about budgets. If a Law Firm that had a low top of page rate is gaining grounds, or if an Attorney with a low overlap rate now has a high one, it probably means that they've started investing more money in their Google Ads campaigns.
Tip: Remember our article on branded ads and how they can protect your Law Firm? When you have an active branded campaign, you can access the auction insights tool and identify who's bidding on your branded keywords.
Time for our main takeaways:
PPC is a competitive environment for Law firms, and knowing your numbers can help you succeed.
Using the auction insights tool helps you identify your competitors and plan strategically.
It also allows you to act proactively in budgeting, scaling, and identifying new or untapped opportunities.
Keep a regular eye on the data provided by the auction insights tool. It's not a one time report, data can change, and you want to stay on top of any issue before it escalates.