Are you looking to partner with an SEO agency for your law firm's needs? In this article, we go over the questions you need to ask before deciding.
When will you start seeing results?
This is often considered the million-dollar question for SEO. Search engine optimization is a continuous process that needs strategic, ongoing effort to work, so there is no definitive answer. Several factors will determine the timeframe, including the competition in your location, your practice areas, your most important keywords, the technical aspects related to your website, and your overall digital presence. Additionally, your content strategy plays a vital role in the timeframe. Our methodology and optimization strategies allow you to start seeing a significant increase in traffic after the first three months. As we continue working on your SEO strategy, you will rank higher for valuable keywords, get more visitors, and, ultimately, sign more cases.
What services do you include in the SEO package?
It all starts with on-page SEO. First, we audit your website, analyze the user experience and design (UX/UI), and check its loading speed and URL structure. Then we proceed to all necessary optimizations. However, it doesn't stop there; we work with you, listen to your needs, and decide on the best, customized strategy to help your law firm increase its organic traffic and subsequently its caseload.
What about internal and external links?
Your internal link strategy is part of our on-page SEO. As soon as we optimize all your internal links and opt for external link-building services, we review your existing content and run a link-building outreach campaign. This allows us to add external links from highly relevant websites around the web. We understand their value, and we handle them with utmost care.
What's their approach to backlinks?
That's one of the most controversial parts of a search engine optimization strategy. Several SEOs enter into the grey zones of link-building outreach, but we prefer a different approach. We create content in English and Spanish that's worth reading and sharing. We work towards giving your law firm the authority score that it deserves, and, with a solid and transparent strategy, we make people want to link back to your authentic and unique content.
What about content strategy? 
Content is king. Before deciding on your SEO partner, you must understand how they're going to handle your content. Unique, authentic, and engaging content is essential both from a search engine and user experience perspective. At Nanato Media, we work with licensed attorneys for practice area pages and handle all other relevant content in-house. Our experienced and devoted team of writers will ensure that your content stands out in English and Spanish.
Tip: Remember to ask for samples of previous work. There's no better way to tell if your content will stand out.
Will they be implementing technical changes on your website?
Your journey to SEO starts with your website. Your partners should run audits on your website, optimize its speed, and look for broken links and potential error messages. Your URL taxonomy should reflect your content, strategy, and capabilities along with your metadata. Your UX and UI should be optimized for the search engines' and searchers' satisfaction. We take your law firm's website seriously, ensuring that technical optimizations are our first step in your journey to success with SEO.
What about the contracts?
Search engine optimization is an ongoing process that lasts. In comparison to PPC, you don't turn it on-or-off but keep building your organic presence. If an agency promises immediate results and doesn't require a long-term commitment, that should raise a bright red flag. This likely indicates techniques that could harm you in the long run or may otherwise signal an agency that relies on a large volume of clients, not client retention. We work with annual contracts for legal SEO projects. Not to keep you committed to Nanato Media for your SEO but because we know that this is the optimal timeframe for your success.
How do they measure success?
You should make sure that your goals go hand in hand with your partner's success metrics. First-page rankings for high intent keywords and an increase in organic traffic are both critical factors, but what's the ultimate deciding factor? The increase in signed cases. We make sure to target the right keywords for your law firm, and we give you access to a dashboard that keeps track of all changes in rankings. What's more, we keep in mind that new signed cases for your law firm is ultimately what makes an SEO campaign successful. Therefore, you can keep track of your conversions in our personalized Lead Tracking Dashboard, where you're able to review your leads, score them (qualify/disqualify), and review your calls.
What do clients say about them?
Word of mouth, referrals, reviews, and participation in the legal industry's official events are just some of the factors that you should research before deciding on your SEO partner. Your clients are paying attention to your law firm's reviews, and you should do the same with the agency you work with. Additionally, you should ask if you can contact a former client, and, ideally, the last that left the agency. Restrictions may apply, but you'll gather vital information even if you don't manage to get in touch.
Fact: Word of mouth and personal connections are valuable. Research within your network and ask other attorneys you know and trust.
What software and tools do they use?
Top-notch software for all steps of your law firm's SEO is what makes your strategy more efficient and productive. Starting from your keyword research and ranging to analytics and tracking, your partners should use tools that maximize your strategy's impact. We use several sophisticated tools that ensure your campaigns reach their full capacity while helping us monitor and report back results on your site's viewability, rankings, actual calls, and backlinks. Some of the tools we use are SEMrush, SpyFu, CallRail, Ahrefs.
Tip: Agencies don't like revealing all their secrets, so don't expect to get a complete list of every software or tool they use. However, your next partner should be prepared to disclose some examples. Additionally, you can look for partner badges on the agency's website.
How are they handling their SEO?
Does the agency specialize in digital marketing for law firms? Are they showing up organically on the first page of SERPs for their keywords and primary services? We, at Nanato Media, specialize in bilingual digital marketing for Attorneys. If you perform the related query on Google, you will find us at the top of organic results. If an agency can't make it happen for its brand, how will it make it for your law firm?
Organic results for bilingual digital marketing for attorneys: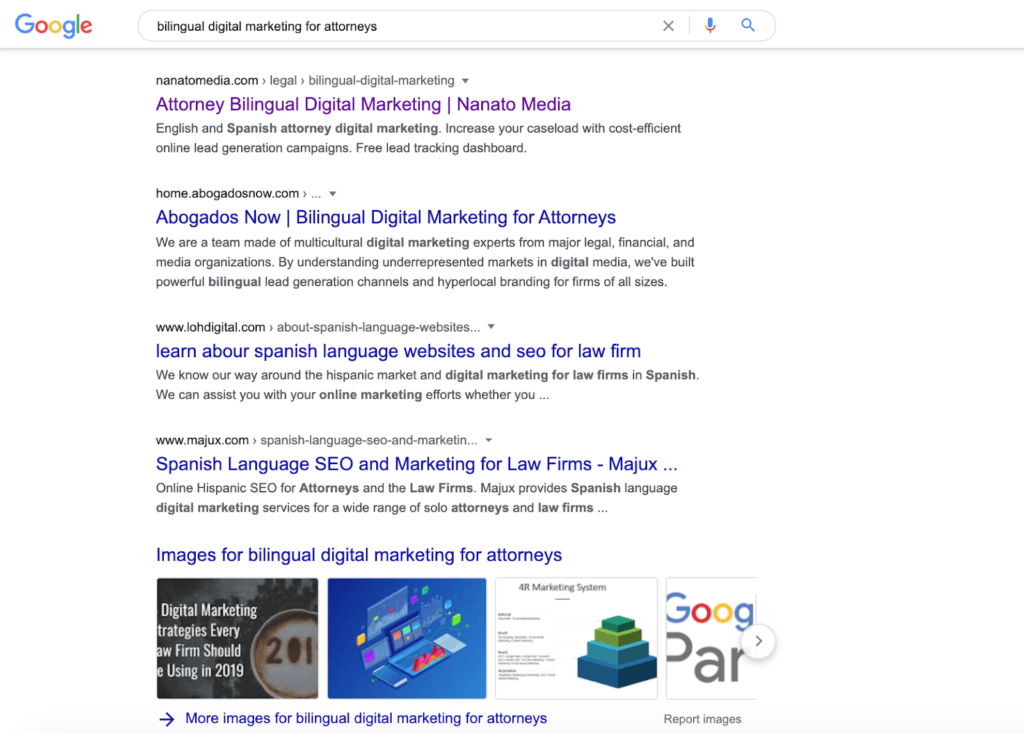 Are they able to handle your law firm's Hispanic SEO?
Are you interested in investing in Hispanic SEO? Your Search Engine Optimization partners should be able to understand Latinx audiences culturally and emotionally. Simple translations are not part of an effective strategy for Hispanic organic traffic. The way to approach your Spanish-speaking audiences is through transcreation. Ask them about their experience with Hispanic SEO, their opinion on transcreation vs. translation, and if they are native speakers.  We are a fully bilingual agency with thorough expertise in Hispanic SEO. We culturally connect your law firm to your prospective clients forming all the necessary connections to drive more traffic and new clients.
Do they have experience with legal marketing?
Do they understand the legal industry and the specific needs of your niche? Your digital marketing partners should be able to demonstrate a proven track record with legal SEO. That way, you make sure that your strategies follow the sector's best practices, and you stay ahead of the competition.  Our team of SEO professionals at Nanato Media possesses vast experience. We specialize in legal digital marketing and helping law firms beat the competition.
Who is writing your content?
What's the agency's approach to content creation? Do they have an in-house team? Who is going to write your practice area pages? Can they handle content in Spanish? At Nanato Media, we take content creation seriously. Our experienced team of writers makes sure to understand your strategy's needs and creates authentic, unique, and engaging content for your law firm's SEO.  If we need to prepare or rewrite your practice area pages, we work with licensed attorneys who specialize in a particular practice area. By following this path, we ensure that your content is of the highest quality, respecting your law firm's brand.
How often do you see reports on the performance of your campaigns?
Do they provide information about the metrics that matter the most to you and your law firm? Keywords, rankings, changes in organic traffic, and conversions are among your most valuable metrics. We follow a straightforward approach; you get access to a dashboard that helps you keep track of your SEO analytics. Additionally, your personal Lead Tracking Dashboard allows you to see live data about your leads, score them, and listen to your calls, giving you the ability to monitor your intake team's performance. In addition to our direct and user-friendly reporting, we offer video conference meetings monthly, so you can prioritize your activities and go on with your day uninterrupted.