Editor's note: This post was originally published on March 7th, 2021, and was updated on May 15th, and July 23rd, 2021 for accuracy and comprehensiveness.
A few months ago, back in May 2020, Google announced that they'd start implementing a new algorithm judging websites on the UX (User Experience) they're providing to searchers/visitors. These metrics on the algorithm are called Core Web Vitals. Experts can't stress enough how important they are nowadays for your Law Firm's (or any business's) organic presence and SEO performance.  
Core Web Vitals are more relevant than ever these days as Google is gradually starting to include them as a ranking factor. In today's article, we'll try to give a complete overview of the meaning, potential complications, and tips for your law firm's SEO strategy that will help you stand out. Let's dive into this technical part of search engine optimization and break it down into digestible and straightforward pieces.
What do we mean by Core Web Vitals?
These are metrics simulating real-life examples and experience. Google gives scores on particular aspects, highlighting load time, interactivity, and content stability combined with loading time.
Largest Contentful Paint (LCP): In laymen's terms, this refers to the loading time of the largest element/asset on the webpage, image, or text. The faster it loads, the quicker the full page becomes usable.
First Input Delay (FID): This measures load responsiveness. In other words, it's the metric measuring the visitor's first interaction with the webpage, meaning the time between when a user clicks on a link or taps a button and when the browser actually starts processing the event.
Cumulative Layout Shift (CLS): This measures the total sum of individual layout shifts during a web page's lifespan. In other words, it measures the time of an element's rendering from one frame to the next.



The Core Web Vitals come as an addition to the existing search signals. These are:
Mobile Friendliness: We've said it multiple times in our blog articles that building your law firm's mobile-first website is vital if you want to succeed. As Google says on its dedicated webpage: "When it comes to search on mobile devices, users should get the most relevant and timely results, no matter if the information lives on mobile-friendly web pages or apps".
Safe Browsing and HTTPS: Security and privacy have both been the center of attention for years now. Google is putting them at the epicenter, making them a deciding factor for rankings. For the internet behemoth, the HTTPS protocol is a no-brainer and, therefore, a vital component for your law firm's website success.
Intrusive Interstitials: We've talked about them as a core component of combining CRO and SEO, and Google has always considered them a vital part of content accessibility, especially for mobile users. Below you can see a set of Google suggestions:

Here is what the updated search signals for webpage experience will look like in the coming months: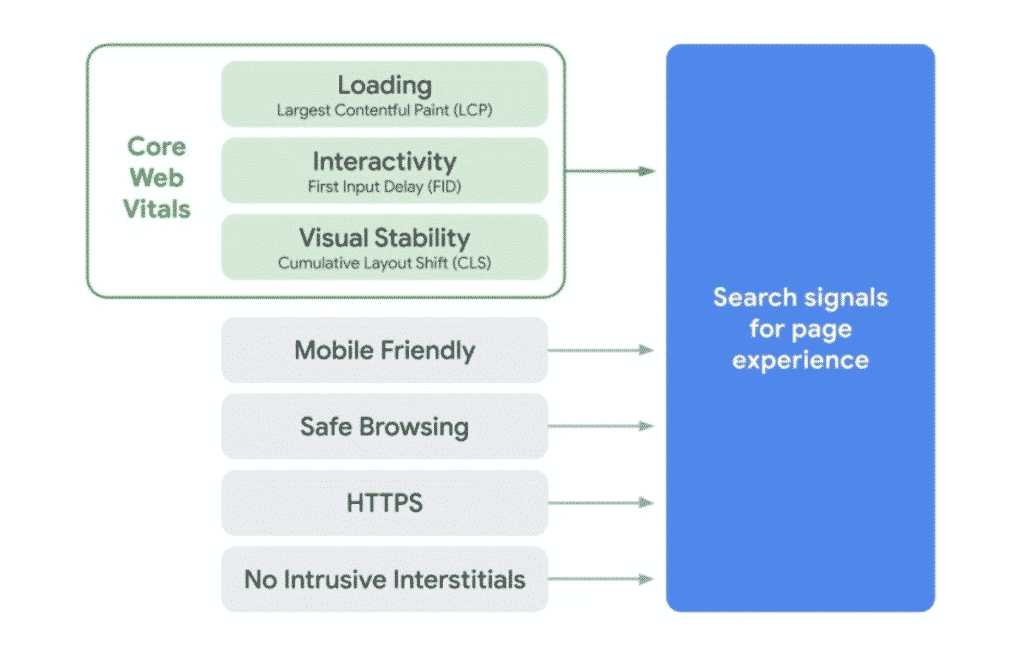 "A new way of highlighting great experiences," Google says.
Some might have seen this with skepticism, others with frustration as Google keeps twisting and shifting ranking factors and search signals. It's not all just about the Google Core Updates, but the leading search engine always strives to improve its product and make the searchers' life more convenient. This new addition is a step towards more relevant results, closer matching intent, and enhanced user experience.
If you're not yet prepared for the changes and the update, now is the time to speed up and catch up. It's expected to be fully rolled out by May 2021, and experts say that they're starting to see some first signs already. Start with the Core Web Vital reports Google offers in the search console, identify what needs to be fixed, and plan ahead; you don't want to miss out as it might put your law firm's organic presence at risk. We're still unsure about the extent of the update's impact, but seeing that it's combining several significant factors, we wouldn't suggest overlooking it.
Reading all these, someone might conclude that content is losing value and momentum. That's not true at all. Google has made it crystal clear that content is and always will be king over the strictly technical elements. After all, Google is all about providing the most valuable and relevant information to the searcher/visitor. Therefore, even if some technical aspects are slightly subpar, original, unique, and informative content will still be on the winning side.
The passage ranking and indexing
In addition to all the previously mentioned points, we'd like to discuss the Google passage ranking and indexing. Last October, Google announced that they'd introduce a new way to rank specific web page passages on the SERP. That started going live in the US (for results in English) on February 10, 2021. The official statement from the search network predicts about a 7% effect across all queries when this is fully rolled out. Using passage ranking, Google manages to dig deep into web pages and find the specific sentence (or sentences) that reply to a user's query. As announced, "By better understanding the relevancy of specific passages, not just the overall page, we can find that needle-in-a-haystack information you're looking for." We see that it's closely related to the Core Web Vitals, as websites combining great content with seamless UX will be the clear, undisputed winners.
May 15th update
Google had initially planned the rollout of the Core Web Vitals as a ranking factor for May 2021, but according to the latest updates, they postponed it to mid-June. They are now expected to be fully in place by the end of August. That gives businesses and web admins extra time to prepare their websites and SEO strategies, allowing them to perform the essential updates that will enable them to stay on top of the SERPs.
July 23rd update
The new WordPress 5.9 update seems to be optimized for a new era with Core Web Vitals. Early reports show that it could boost your website's related performance by up to 33%, fine-tuning lazy loading and larger contentful paint (LCP). This signals a great opportunity for law firms already using the CMS and who can update their websites to the latest version, saving them from doing guesswork and manual fixes.
What are the key takeaways?
Google is continuously trying to make the searchers' life easier, providing them with more relevant information and search results.
In addition to valuable and high-intent information, Google prioritizes User Experience, and that's the reason why they're introducing the Core Web Vitals.
Audit your law firm's website and ensure that it's compliant with all the points we've covered in this article; that's your best opportunity to be on the winning side of this update.
And don't forget to keep providing robust, unique, and original content that searchers will find helpful and enjoy reading or viewing.