Law firm SEO is one of the most important, yet complex parts of an attorney's digital marketing strategy. It's not only about the competition, the time, and the resources commitment. It's also about identifying the proper tools that can help you understand where the value lies and how you can capitalize on it. There are plenty of external (free or paid) tools available out there, but Google also offers a great tool that you can start with and use as a point of reference. We're referring to the Google Search Console. 
We often talk about the best practices of law firm SEO in English and Spanish, and recently published a guide on the most critical SEO mistakes you have to avoid. Today, we'll concentrate on a different side of your search engine optimization strategy; understanding the Google Search Console and exploring the elements you have to consider when evaluating your Law Firm's SEO. As we've discussed several times, it's not a set-it-and-forget-it scenario, so understanding the most valuable metrics and tracking them is an equally essential element.
How can you use the Google Search Console?
The URL inspection tool. We've already explained the value of URL taxonomy to Law Firm SEO, but effectively setting up your URLs isn't always enough. From time to time, you need to go back and review all the URLs on your website, identify any broken links (audit your website), and understand how Google is crawling your website. You can use the URL inspection tool to notify Google of changes on older web pages, updates on your UX (for example, the addition of mobile pages), or added pages on your law firm's website (such as a new practice area or blog post).
The search results report. Why would someone want to use another Google tool when analytics are already available? Don't get us wrong; we're not suggesting discarding Google Analytics reports and only using the Search Console. Instead, we recommend using it as an additional tool to identify your law firm's top-performing pages, your CTR, your clicks per keyword, your impressions per keyword, and to get an overview of your website's performance on the SERPs over a 16-month period.
The coverage report. By using this report, you can gain a better understanding of your law firm's indexed page and identify what is included in your sitemap. With this information, you can spot crawling errors and any broken pages. Some of the most common yet critical errors you can spot are DNS errors, 404 (or soft 404) errors, and server errors.
The removals tool will help you block some URLs on your website temporarily. Why would you want to do this, you may ask. There are three main reasons. First, if you spot thin or duplicate content on your law firm's website, you can add it to the temporary removal tab which holds it for six months. Additionally, you can use the removals tool to spot parts of your website that were reported by the public as outdated, giving you time to consider the most recently available sources and update your web page. Finally, you can use the SafeSearch tab to understand if searchers have flagged specific parts or pages of your website as potentially sensitive or adult.
Tip: You can't use the tool to remove a page from your website permanently. It's one step in the entire process.
The enhancements section. This section can tell you a lot about your law firm's SEO capabilities, as it's strictly tied to the Core Web Vitals that are receiving significant traction and that are set to become a contributing ranking factor. It's been less than a year since Google added the report on the Search Console, and it has the potential to become one of your best allies in preparing you for the upcoming rollout. When you run the report, you will get an overview of the pages that pass the Google threshold (marked as "good"), and you'll also be able to see what you need to focus on improving. Closely related to the Core Web Vitals are the mobile usability and AMP reports. By running and evaluating these, you can spot pages that are wider than the screen, clickable elements that are too close to each other, and how AMPs impact your ranking performance.
The review snippet report. We talk about law firm reputation management so often that we're sure by now you're aware of the importance of generating and handling your reviews. This is the part of the Google Search Console where you can monitor your review snippets; in other words, the reviews that are pulled and displayed using schema. The report allows you to identify any errors or warnings associated with the markup you've implemented on your website. If you spot any of these, you can fix them, and, using the tool, let Google know so that they can re-crawl your website.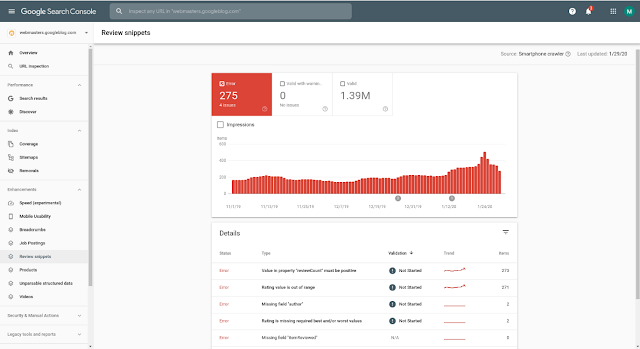 ---
Time for our takeaways:
Law firm SEO is complex, requires time, and commitment and isn't a set-it-and-forget-it strategy. Unique and original content is a significant step, and so is performing technical improvements and optimizations. However, tracking your performance is equally important.
You can use several tools, and the Google Search Console is among the most eye-opening. It contains valuable information that you can use to fine tune your SEO efforts.
We've covered the insights we consider the most impactful for law firm SEO, but there are several more that you might want to consider. If you need any additional assistance or have any questions, don't forget that we're here to help.