Video is constantly gaining ground on businesses' preferences to create brand awareness, get in front of their prospective clients, and potentially acquire new leads. Youtube is the most well-known video-sharing platform, offering multiple opportunities for law firms that want to make the most of their video assets. Be it ads or organic presence. No attorney should overlook its importance, or the benefits of a full-grown subscriber base. 
If you're familiar with our blog, you'll already know that we hold video in general, and Youtube more specifically, in high esteem. In previous articles, we've reviewed the opportunity of the Google Video Builder tool, and we've prepared an ultimate guide for Law Firm Youtube ads. Today, we're concentrating more on the organic side of things, looking into the importance of building a growing subscriber base and giving actionable tips on getting real subscribers that can boost your engagement and help you build authority. Of course, for law firms, the goal isn't making money straight from the Youtube platform through ads or sponsorships. As such, you should aim for watch time and engagement that help you with the algorithm.
The first question you should ask is if you could or should use services that offer Youtube subscribers. The answer is straightforward, so let's dive into why you shouldn't buy subscribers (just like you shouldn't buy links or social media followers). Most services ask you to participate in pods that give you specific tasks (subscribe to accounts, watch, like, or share videos), and, in return, they include your channel in their pool. That or they ask you to pay for subscriber packages. In both cases, you invest time or money (the most significant resources) and receive questionable returns. The subscribers will be either bots or users that are not interested in your services, making them ghost subscribers. Let's put it this way, a channel with 10k subscribers and 100 views per video looks suspicious. Instead of building credibility, it detracts from it. Additionally, Youtube has created a strict fake engagement policy that could lead to account suspension.
So how can you attract new subscribers organically?
Let your clients, peers, and employees know.
The top and most obvious option is to begin with the people that already know you or are familiar with your law firm. Add a subscribe button to your communications, such as email exchanges and newsletters. This method doesn't necessarily build your subscriber base quickly. Still, it can give you an initial boost while also showing customers and potential customers you are active on the video platform, providing relevant educational and informational content.
Ask your viewers to subscribe. 
Like the first point, letting your viewers know that subscribing to your channel will help them get notified first for your fresh content is key to turning casual viewers into subscribers. Additionally, noting to viewers that it also help your law firm's Youtube channel grow and stay active with educational and informative content can further contribute to them subscribing. In any case, demonstrating why it's worth it to become a subscriber is a vital element.
Keep your subscribers and your community engaged.
For this we have two tips. First, give a quick spoiler of what will be in your next video at the end of each video. This helps you keep your viewers (and hopefully subscribers) engaged, in the loop, and looking for more content that could help them with their potential needs. The second tip we've got for you is to review your comments. A simple like isn't enough. Reply to their comments and provide them with additional help if they ask a question. This will create a positive vibe in the comments section and contribute to further engagement from other viewers.
Remember: Check your older videos too, as people could go back to your content and look for assistance.
Verify your law firm's Youtube account.
Having a verified account helps your credibility, but what's equally important is that it allows you to create videos longer than 15 minutes. That could be particularly important for law firms that want to make Q&A sessions or host panels with lengthy conversations.
Invest in your law firm's brand image on Youtube. 
Creating a Youtube channel is the first step, and your content is fundamental to your potential success on the platform. Making sure your brand image stays consistent across all platforms is another significant contributing factor. Begin with your banner art that welcomes all new viewers and subscribers to your channel. Adding a personal touch with a picture of you and your colleagues in your office location could be a great first move. Your channel icon should also be indicative of your law firm's brand, as it appears on your posts and comments. Additionally, your channel design should be well-thought-out and written in a way that describes your services and your goals as a Youtube channel. Finally, don't forget to add a custom URL unique to your law firm. You can work on that from the basic menu's customization option, but remember you need at least 100 subscribers before changing it.
Tip: Look into the possibility of branding your thumbnails, making them consistent with your tone and indicative of the content.
Create a trailer/featured video for your law firm's Youtube channel.
Landing on your Youtube channel should be no different than landing on any other page related to your law firm. The moment a viewer or subscriber clicks on your profile and lands on your channel, they'll see an introduction page. That page is customizable, allowing you to create and upload separate videos for subscribers or non-subscribed viewers. Creating a unique experience for each of them is a critical touchpoint that can help you demonstrate your core values and mission to non-subscribers unfamiliar with your law firm, while welcoming back current subscribers with relevant content that matters to them.
Extra Tip: Cross-promote accounts on all platforms. If, for example, you've built significant audiences on Facebook or Instagram, you can create shorter cuts of your Youtube videos and promote them through posts or stories.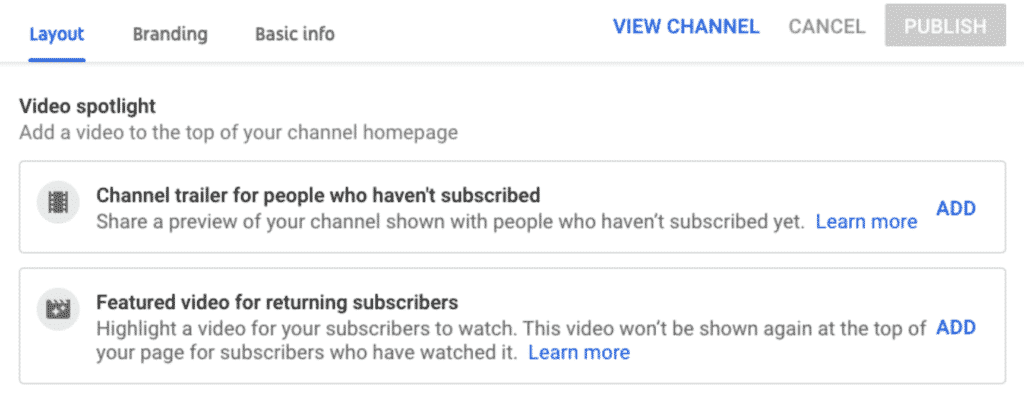 ---
Time for our takeaways:
As the top video-sharing platform, Youtube is an integral part of any law firm's digital strategy.
Your channel's subscribers can help you boost your authority while getting in front of the audiences that matter the most to you.
Buying your way to a meaningful subscriber base isn't an option you should consider. On the other hand, organic growth might require effort and commitment, but it's what can help you achieve your goals in the long term.