Every law firm can benefit from a well-structured, thorough reputation management strategy. Reviews matter for prospective clients in any stage of their journey, whether they're in the initial research phase or ready to commit to a decision. The quality and quantity of reviews can be one of the most decisive factors determining if an individual will choose your law firm over the next. 
Almost a year ago, we came up with a complete guide on law firm reputation management, exploring the available possibilities and giving attorneys actionable tips on how to stand out and beat the competition with a comprehensive strategy. So while, if you follow our blog, you'll get a head-start there, today we're focusing on an additional subject that requires attention and deserves our shedding some light on it. How can you manage reviews, and what's the best way to avoid malicious or fraudulent reviews? Today, we'll explore everything around the journey of managing your law firm's reviews, concentrating on GMB (Google My Business) and the latest addition on takedown options and processes.
Handling, responding to, and monitoring negative reviews should be among your top priorities if you want to succeed with your law firm's reputation management. Yes, it's unfortunate, but some negative reviews may come from legitimate sources, such as a client that an attorney didn't manage to serve or collaborate with in the way the client wanted. There are, however, other negative reviews that would qualify as illegitimate, and, if that's the case, you can take action by asking Google to check the specifics and decide if the review can be taken down. A few reasons this could occur are:
If the user isn't referring to your law firm, but, instead, is mistaking you for another attorney.
If you suspect that it's coming from a competitor or is purposefully submitted to harm your ratings and subsequently your reputation.
If it's explicitly offensive, for example, including profane language or threats.
If there are privacy issues; for example, if it's revealing confidential information.
If there is a legal issue.
How can you report a review?
Google offers a dedicated tool that allows you to access your reviews and report them for removal. The first step you have to take is to get in your GMB profile, select your business. Once you're in, you choose the option for flagging the review in question by clicking on "report a problem." That will take you to the next step, selecting one of the reasons we explained above.
Fact: Please note that this process takes time as negative reviews may require manual review. Once the result is available, if it's not the one you were hoping for, you can appeal it if it violates Google policies.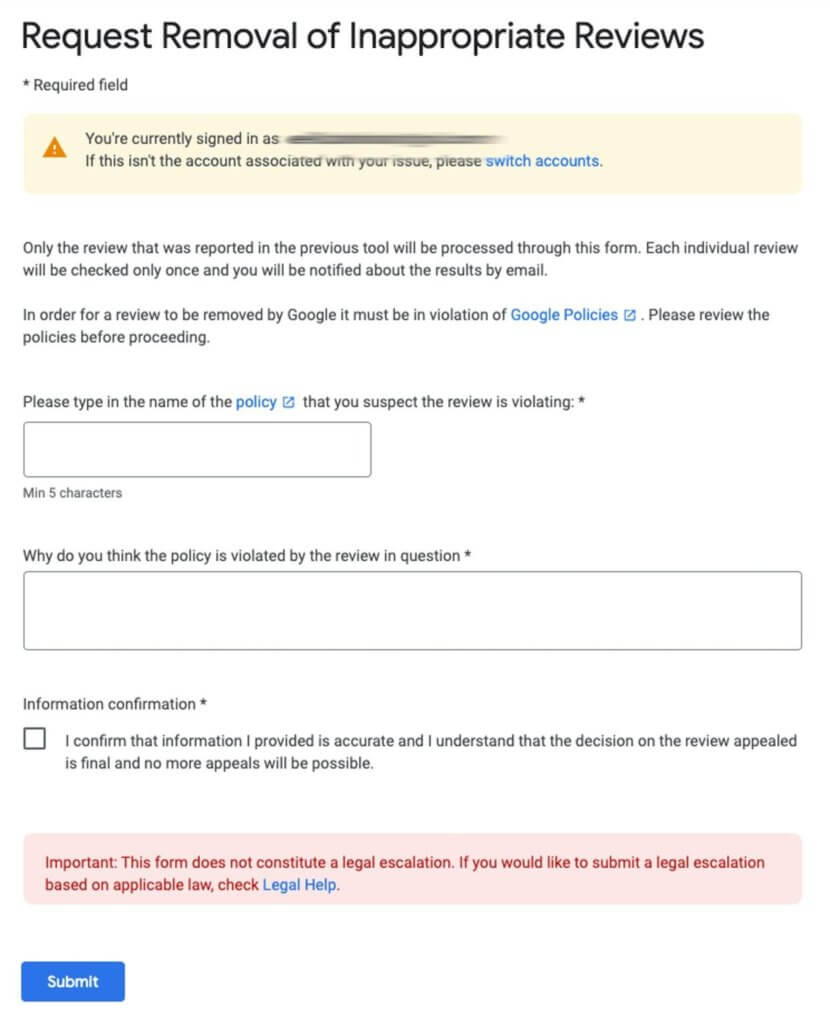 Previously, when you'd go through the process, you'd have to wait, wait, and wait without being able to review the status of your claim. Lately, however, this has changed, as Google allows you to "check the status of a previously reported review." If you follow the previous steps, as soon as you get on the dedicated page, all you need to do is select this option instead of  "report a new review for takedown." This is clearly a step in the right direction for law firms and businesses in general that have to fight against fake reviews.
As of now, we're collecting reports stating that the tool might not effectively work for GMB accounts that don't manage a large sum of locations or businesses. If your law firm's GMB account has "too many listings" for the tool to work, you will need to be patient and wait for future updates.
As previously mentioned, and commonly discussed in the marketing world, reviews significantly contribute to a consumer's decision-making process. Most prospects will compare multiple options, read several reviews, check how you and your competitors handle positive and negative comments, and assess your profile before committing to a decision. While negative reviews are part of the equation, not everything is fair, and fake reviews can become a severe headache for business owners who want to stand out. We can compare it to click-fraud prevention in PPC. Still, without any definite and practical tools to prevent review-fraud, Google continues trying to stay on top of the challenge. For an effective reputation management strategy for your law firm, you'll have to keep an eye on all incoming reviews. Firstly, respond and follow all the best practices, to identify and report any suspicious actions that could harm you. We'd suggest treating it with the appropriate attention and sensitivity, and remember that we're always here to help if you need additional guidance.
---
Conclusion:
Your reviews are tightly related to the success of your digital strategies and local campaigns. Taking down a fraudulent review is not a simple task and might require manual effort and attention, and while Google is taking steps in the right direction, there is still a ways to go till everything is clear, smooth, and seamless. We'll be keeping an eye on the most recent updates, and we hope to soon see an upgrade in how these platforms handle the requests businesses are filing.