Google has started the year strong, introducing updates and changes in several parts of its offerings and services range. A few of them are local SEO, local pack search results, and Google My Business (GMB). Can these updates make your life easier and positively affect your law firm?
2021 is the year we've all been looking forward to as a beacon of hope that will bring our lives back to what we used to know as normal. Google knows and understands that all things are leaning more and more towards digital and has kicked off the year with updates and changes in a variety of its product offerings. Last week we looked into the most recent news for Law Firm Google Ads in 2021 and what they mean for your business, but that's not everything the internet behemoth has introduced recently. They've come up with new additions in the world of local SEO and GMB. Today, we'll explore these updates and give an overview of how they can impact your law firm's digital marketing strategy.
Experts consider Google My Business to be one of the most vital contributing components for your local digital marketing success. It allows you to list your business and display it on local search results and Google maps. Among the various crucial features it offers, you can find posts, products/services for law firms, reviews, and photos. Another feature of significant importance is GMB messaging. This allows searchers and prospective clients to reach you directly via a message and make the first step towards becoming the next signed case for your law firm. Until recently, this option had only been available on mobile devices using the Google My Business app.
What changes in 2021? Google recently (mid-February) introduced the desktop messaging option. If you turn on messaging for your law firm's GMB, you'll be able to spot it on your dashboard, as shown below. We don't consider it a game-changer yet, but it's definitely a valuable tool and an addition that moves in the right direction. Google has been pushing direct messaging through GMB (it's available on maps as well), and we see it as a sign of increased importance. That means you don't have to hold back from using it anymore if your issue was mobile-only availability. You can add your front desk officers as users, and they can seamlessly access, review, and respond to messages when they pop up in a timely and efficient manner.

Tip: Keep your response time optimized. Google rewards businesses that get back to their prospects in a timely manner (within 24hours), and if you follow the guidelines, you can be sure they won't deactivate the option for your law firm. Remember, don't exclude options; you might be positively surprised when the first messages start popping up.
Another update   particular to the legal vertical, is the option to list your law firm's attorneys on your GMB listing. We spotted this on the GMB of Attorney Mike Morse (he was our guest on In Camera podcast a while ago), and it's rather interesting as you can list your team and prompt searchers to the website for more information. We don't have any concrete insights that it has been rolled out. It might still be a work in progress.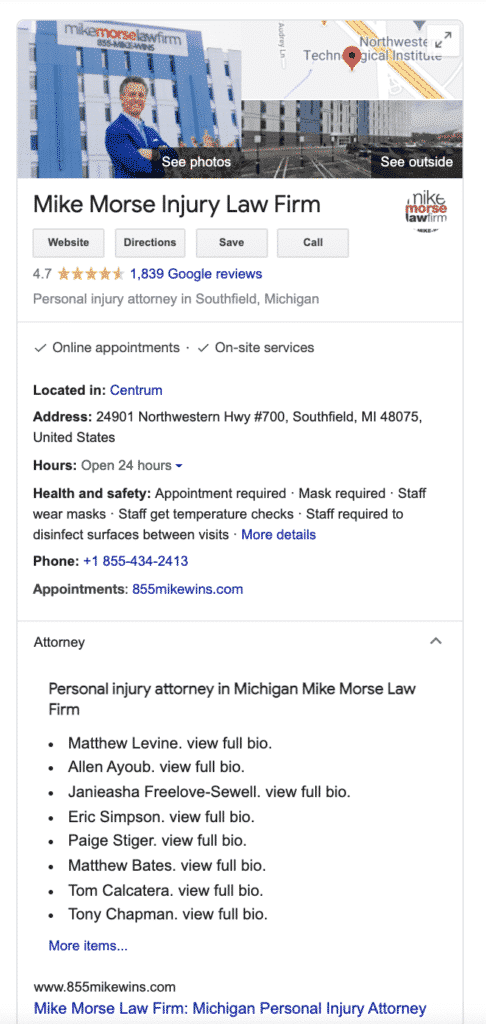 If you've fully explored your Google My Business account's setup options, you might have spotted a section in the info category name "add opening date." Lately, we've seen some results on the local pack displaying the years in business. That particular option can be valuable for law firms that have operated for decades to enhance their brand image and boost their profile. On the other hand, you shouldn't be discouraged to use it if you are relatively new, as leaving it blank may lead to Google showing that you've been in business for less than a year. This seems to be the default for accounts that don't fill up this field.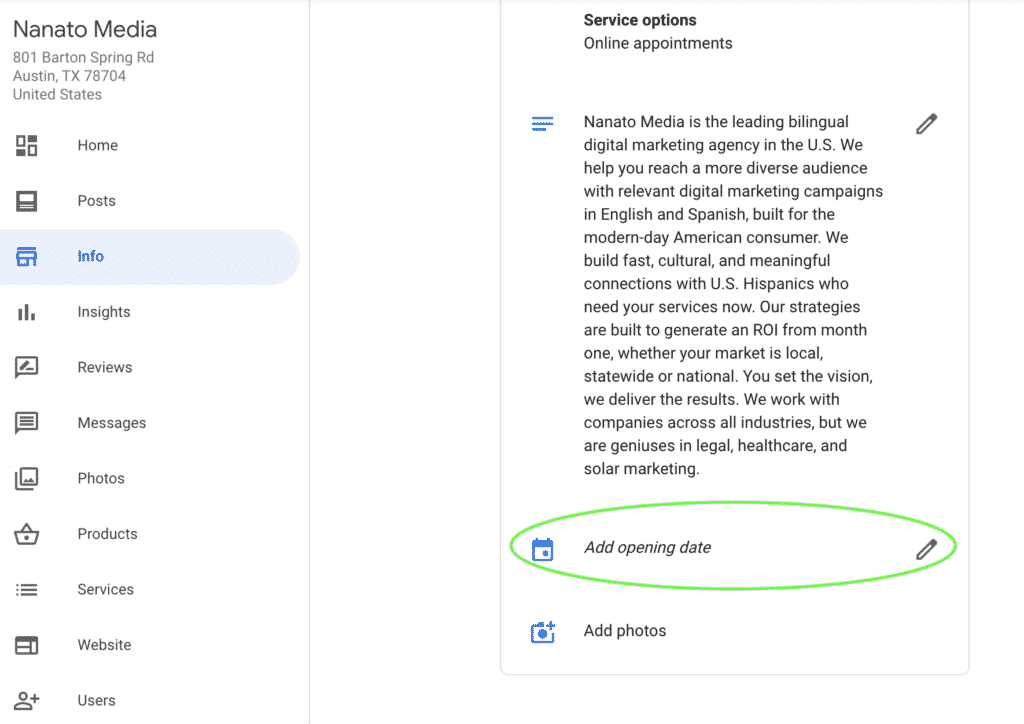 Our last point isn't as current as the previous ones but doesn't lack importance. On the contrary, it might be even more significant. Your GMB listing allows you to mark your availability for online services. For law firms, this can be particularly critical as they can display their availability for online appointments. This can drastically increase your chances of conversions from searchers that don't prefer in-person meetings amid COVID-19. Below you can find the information provided by Google.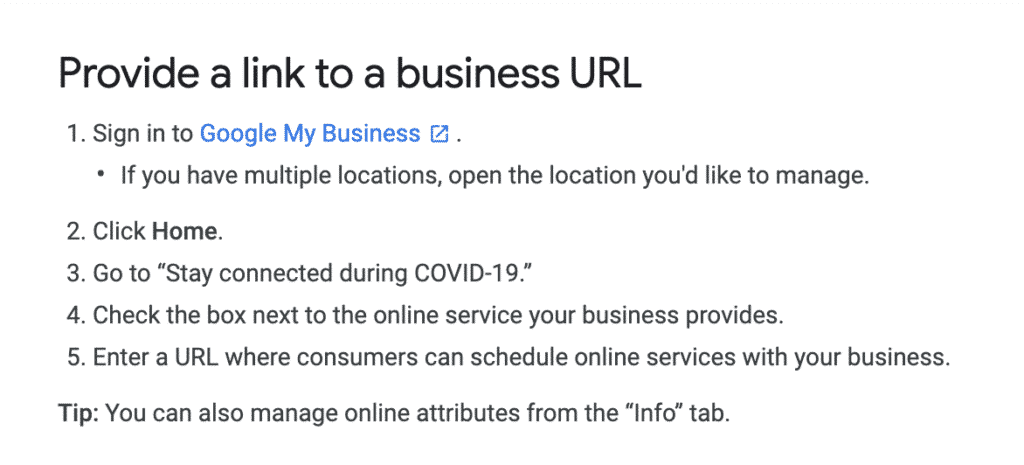 What are the key takeaways?
Google understands the current environment and is looking to enhance its product offering with new functionalities that can boost your Law Firm's online conversions.
GMB (and local search in general) is among Google's top priorities, and this is proven once again by the additional tools they keep providing.
Keep an eye on your listing and your GMB dashboard. Spot what's new and what might be beneficial for your Law Firm. Follow the best practices, and you'll stay on top of the challenges.