It's here! Google's most recent improvements to its Search algorithm were successfully completed on June 9.
Every year, Google rolls out several upgrades to its ranking processes,and unless you're an experienced marketer, you will probably not notice these changes all that much.
However, bear in mind that Google core updates can affect your law firm's website performance. While some websites notice traffic gains, others report significant drops. How, then, does the May 2022 Google core update impact your law firm's website?
Back to the SEO basics
To understand the impact of Google's core update, we first need to understand one of digital marketing's basic tools.
If you manage a website, you will understand the importance of using Search Engine Optimization (SEO). Simply put, in order to generate traffic to your website, you will need to craft engaging content that follows the Google algorithm.
This is no easy task, as the algorithm can at times appear ever-changing and unpredictable. Reaching the prestigious top spots of the Search Engine Results Page is seemingly impossible and reserved for million-dollar businesses.
Well, you'll be relieved to know that is not the case. SEO is the key to take your law firm's web page to Google's top results. Lucky for you, we have an entire category dedicated to SEO on our blog that will help you master the art of optimizing your content for search engines.
A core update essentially affects the way a website is ranked, and therefore, it is a game-changer in terms of SEO. Knowing the basics of SEO will help you deal with any changes made to the Search Engine Results Page (SERP).
Changes to the algorithm
While Google announces every core update they roll out to their algorithm, they don't provide specific details as to what changes. This may feel like Google purposefully blindsides businesses wanting to build an online presence.
There is no way to accurately predict how digital marketers and website managers can prepare for the aftermath of a Google Core Update as the information provided is too vague.
What we do know, however, is that once Google announces an update to the algorithm, you should keep an eye out for what type of content is ranking higher on your website. This will help decipher the mysteries the new update brings.
For reference, Semrush analyzed the May 2022 core update and its average number of positions lost or gained per domain.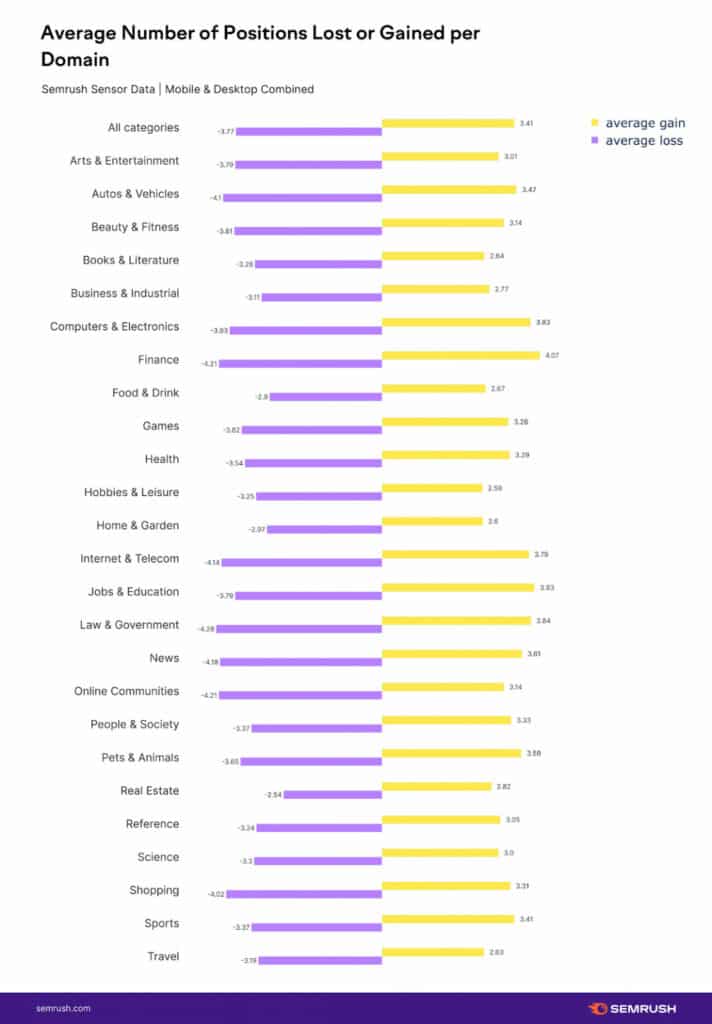 This general parity across different industries shows one fundamental truth: Creating quality content relevant to your audience is a universal need among websites.
Follow the rules
When in doubt about how to deal with Google's core updates, follow the webmaster guidelines designed by Google itself. These basic recommendations will help you manage your website without suffering any significant impact to your website's ranking.
Some basic principles include:
Prioritize the user experience, not search optimization

If your website primarily focuses on SEO rankings rather than providing users with a seamless navigation experience, then you need to check your priorities! Besides fulfilling your audience's expectations and needs, your website will also gain bonus points with Google's algorithm.

Make your website stand out from the others

When it comes to building your online presence, a search-optimized website is not enough. You will also want to offer a unique experience to users by creating content that is relevant and useful for them.

Give regular maintenance to your website

In case this is not already common knowledge, make sure to regularly update your website and check for broken links, spam, and security issues. This will not only guarantee users a smooth experience, but it will also help Google understand your website better.
Content that works
Okay, we know we previously said that quality is one of the most important traits to prioritize for your website. But there is content Google's algorithm favors that you should incorporate into your digital marketing strategy.
According to data from Semrush and SISTRIX, here is the type of content that dominates Google's algorithm:
The rise of video and its ongoing success

It's not surprising that Google prioritizes video content after their Google Marketing Live event revealed a strong emphasis on video marketing. After the broad core update, video websites improved their online visibility by 25%. In short, hone those video marketing skills and put them to good use on your website!

Context over content

Contrary to popular belief, SEO is not about keyword-dumping or posting generic content to your website. As a general rule of thumb, every time you add content to your website, ask whether you're providing your users with valuable information. This often means you must add context that matches a user's search queries.

Show your expertise

Websites that attempt to be know-it-alls rank poorly on average. The chances of your specialized website being hurt by Google's core update is lower, and it's thanks to your organic metrics! There is always an audience, even for the most niche topics, so don't lose focus.
Takeaways from Google's May 2022 Core Update
Core updates are common practice and should not discourage you from putting out high-quality content that interests your target audience. Even if you're a SEO expert, it is normal that websites suffer some volatility as they adapt to Google's algorithmic changes.
Don't panic if your website is being affected by the updates. This is likely a temporary issue and will easily fix itself as you continue to produce content based on E-A-T: expertise, authority, and trust.
When in doubt, don't try to fix what doesn't need to be fixed. If your website's ranking is not being consistently impacted by the core update, it is best to wait as the algorithm stabilizes itself. Focus your efforts and resources on quality content to build a successful website for your law firm.