If your law firm owns a website, you will want to know how it is performing for Search Engine Optimization (SEO) and marketing purposes.
Google Analytics helps you do just that. However, if it is your first time using this web analytics service, your experience might go something like this: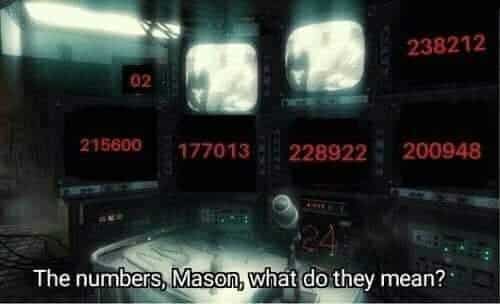 Don't fret! We can tell you exactly what the numbers, the data, everything means for your website. Here's everything you need to know about Google Analytics for your law firm.
The future of analytics is here
Google Analytics 4 has been in the game for almost two years now, revolutionizing the ways in which businesses measure their apps' and websites' engagement.
To provide a smooth, unified management experience, Google combined two of its analytics services for both apps and websites. This cross-platform insight has been a key asset for businesses wanting to up their marketing strategy.
More recently, on March 16, Google announced Universal Analytics, the most current data collection technology for web-based Analytics, will be replaced by Google Analytics 4 starting July 1, 2023. But what does that mean?
In essence, Universal Analytics was built from data obtained by cookies, while Google Analytics 4 "is designed with privacy at its core to provide a better experience for both our customers and their users," the press release states.
So, what exactly is Google Analytics 4 and why has it become the gold standard for web analytics?
What is Google Analytics 4?
Your law firm's website is all set up and ready to roll: You create engaging content and showcase your practice areas. What's next? You want to know how your website is performing!
Google Analytics helps you understand your audience, their behavior, and their interests. This information is crucial because it will set the pace for what type of content you want to create. Further, it will guide you to build your brand and marketing strategy.
This complete (and free!) service by Google can do a variety of things for you: Track website performance, collect user insights, discover patterns in user behavior, and improve your business marketing campaigns. All in all, you don't want to miss out on the goldmine of information it offers you.
Now a cross-platform experience, Google Analytics 4 has more to offer now that it incorporates data beyond your website. To get the most out of the information, you need to know the ins and outs of this useful service.
How does Google Analytics 4 exactly work?
We know: Seeing all those numbers and graphs scattered on your screen might feel a little intimidating for first-time users. Let's tackle the basics so you know where to start.
Getting started
One of the coolest things about GA4 is that it is a free service with added paid features that you can decide if they are useful to you.
You can start measuring your website's data with your Google account. Once you are signed in, the page will prompt you to a welcome screen with a "start measuring today" button.
After clicking the button, you will be asked to provide an account name. You can use your law firm's name.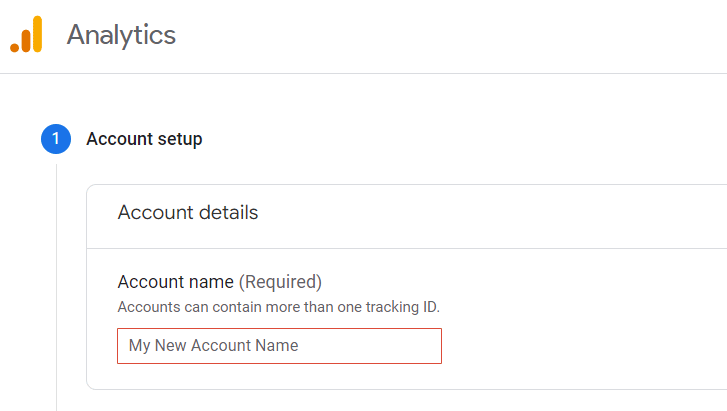 The next screen will prompt you to create a "new property" (Website or app). This is an update from the previous versions of Google Analytics since GA4 tracks multiple platforms on the same account.
The screen will ask you for a property name, reporting time zone, and currency. Fill out this information and click the 'next' button.
The next screen will continue asking you for information about your website, such as industry category and business size. After that, you just need to read and accept Google Analytics terms of service and set up your email communications preferences.
If you're using GA4 for your business website, then choose the "web" platform on the next screen. This will open a pop-up window asking you to provide your website's URL and stream name.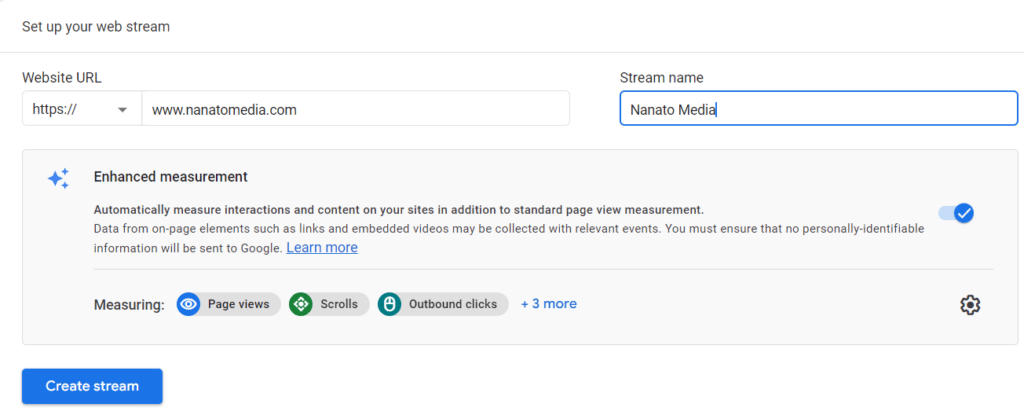 Once you create the stream, you will need to make sure you know what content management system you're using to incorporate Google Analytics into your website. Here is a detailed guide on how to install GA4 in WordPress.
Why use Google Analytics 4 for your website?
As you may notice by now, there are many benefits of using GA4 for your law firm's website, but if you still need some more convincing, here are some reasons why you should incorporate GA4 into your marketing strategy:
Free to use: As we have previously mentioned, GA4 is a free service for your business with a plethora of user insights. There are paid features that you can decide to implement if you find them necessary.
Beginner friendly: Once you set up your account and start measuring your website's metrics, you will find that GA4 is beginner friendly and will provide step-by-step instructions on how to use certain features. For other questions or concerns, Google Support has helpful information on how to use GA4.
Cross-platform metrics: If your business wants to measure metrics from different platforms such as websites and apps, you can find all the information in one place.
Privacy-friendly: Unlike its predecessor, GA4 does not rely on user cookies and private information.
Aesthetically pleasing data visualization: Staring at numbers all day isn't particularly pleasant. That's why they made sure to include easily digestible charts to visualize data.
---
Our takeaways
Breaking through the increasingly cluttered Internet as a business can feel like a hassle. Only those who understand their audiences and their needs can make it. As a Hispanic legal marketing agency, we strongly advise law firms to creatively connect with their market by creating meaningful and intentional content that takes their language and culture into account.
When evaluating your law firm's website, remember what your goals are and use GA4 insights to leverage your marketing strategy. It's never too late to get started with GA4, and we assure you won't regret using this wonderful tool from now on.