Sports are a centerpiece of Hispanic culture, especially fútbol, commonly known as soccer in the United States.
Latinos who grew up in Central and South America playing fútbol with their compadres under the scorching sun will understand why sports mean so much to their culture and traditions.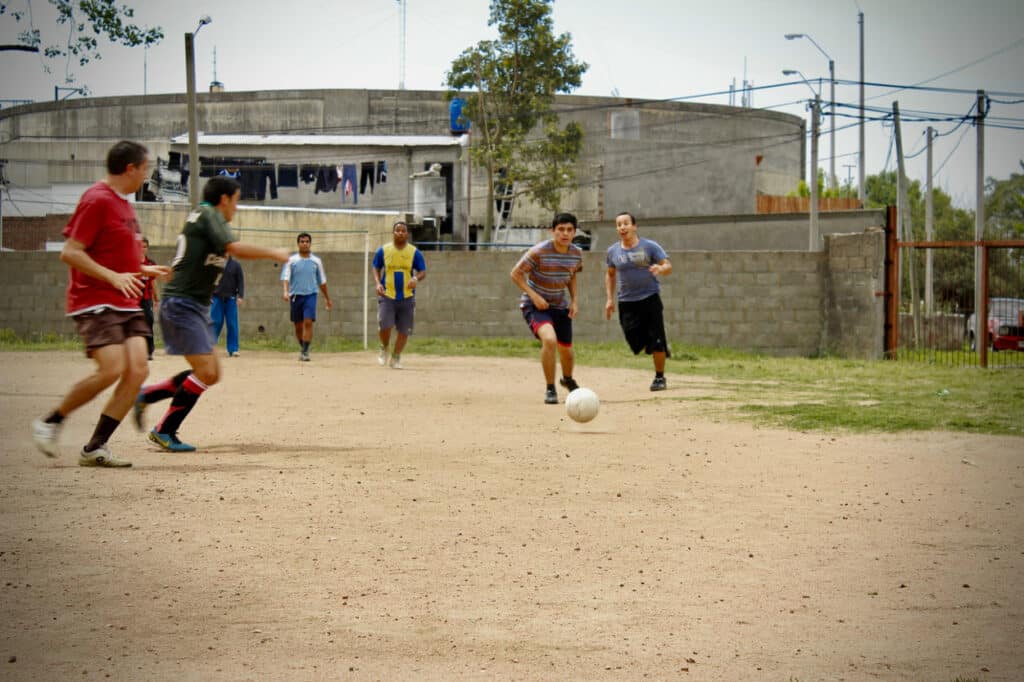 In fact, research shows that sports culture creates community and builds identity. There is something in how sweaty after-school fútbol matches unites kids from all income backgrounds, nationalities, and ethnicities. Sports can also be a safe haven for those still figuring out their place in an unfamiliar environment.
In sum, sports are more than just recreational activities or entertaining hobbies. Sports are a source of passion and belonging among Latinx communities that have concentrated in the U.S.
So, why haven't law firms wanting to build a solid connection with Hispanic audiences seen the potential of sports as a marketing tool?
In short, Hispanics are one of the driving forces of sports marketing, and neglecting sports as part of their culture and interests is wasted potential. A 2019 study shows that 43% of Hispanics said that they watch soccer because they feel it is culturally significant to the Latino community.
In addition, the study reports that Latino sports fans are significantly more likely (54%) than non-Latino counterparts (48%) to support companies that sponsor their teams. This brings us to why law firms that want to increase their Hispanic clientele should aim for sports events or team sponsorship.
Not convinced yet? Let's get into the nitty-gritty details.
Sports marketing: More profitable than you think
Even if you're not a die-hard sports fan yourself, it's difficult to miss the craze around sports events such as the Super Bowl or the upcoming 2022 World Cup. There is a whole culture of gathering around the TV, ordering chicken wings, and yelling at the players to pass the ball.
Oh, and how to forget the tons, tons, of commercials broadcasting to millions of viewers watching in real-time?
In 2017, Americans reportedly spent a whopping $56 billion to attend sporting events, including the cost of tickets, transportation, food, and drinks. This just goes to show that, when it comes to watching sporting events with family and friends, Americans think of it as an investment in memories and experiences.
The same should go for your marketing efforts. Whether you decide to sponsor a sporting event or team, this is an investment for your law firm that goes a long way.
Sports sponsorships as a marketing tool
Showing passion for sports is not a trend that simply "dies out" with time. Sports have been relevant and will stay relevant as one of the leading entertainment industries. And marketers know this very well.
One of the ways your law firm can take advantage of the opportunities the sports industry provides is sponsorships, or the financial support for a sports event, organization, or team. Although it might seem counterintuitive to see sponsorships as a financial benefit for your business, they provide mutual benefits both for the sponsor and the sponsee.
Sports sponsorships as a marketing tool are powerful, not only to connect traditional audiences but also to reach historically underrepresented communities in the U.S. When we talk about the Hispanic market, it is foolish to ignore their purchasing power.
And the beauty of sports sponsorships is that no matter the type of sports or Hispanic demographic, they are powerful and relevant enough to leverage a business's reputation.
Learn from the experts
Some law firms have already seized the opportunity of sponsoring sports teams—And they have achieved success while doing so. If you follow their lead, you might also hit the jackpot!
The Pirnia Law Group and LA Galaxy
Actually, the Pirnia Law Group not only sponsors one but SIX different sports teams, including the LA Galaxy soccer team!
They proudly display their sports partnerships and sponsorships all over their website. Call that brilliant advertising.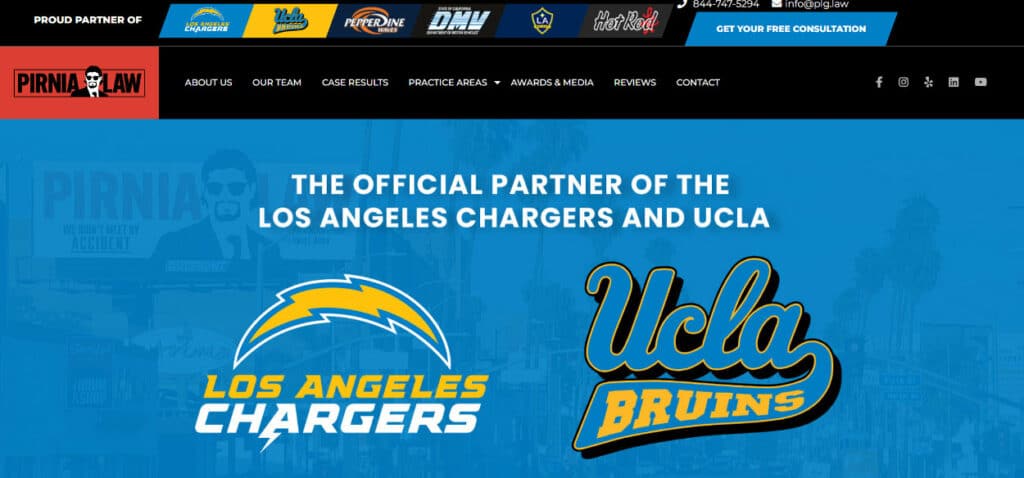 Besides using their website to advertise their sports sponsorships, they also use A LOT of billboards. Pretty cool, we must say. You really can't miss The Pirnia Law Group's both on the road and on the internet.
We can't get enough of Uncle Ardy and The Pirnia's strategic sports partnerships. If you wonder what a successful sports sponsorship looks like, look no further!
Farah and Farah and the Jacksonville Jaguars
Georgia and Florida-based law firm Farah and Farah are "proud sponsors" of the Jacksonville Jaguars, an NFL team from Jacksonville, Florida. They use their social media profiles and advertising to show support for the team.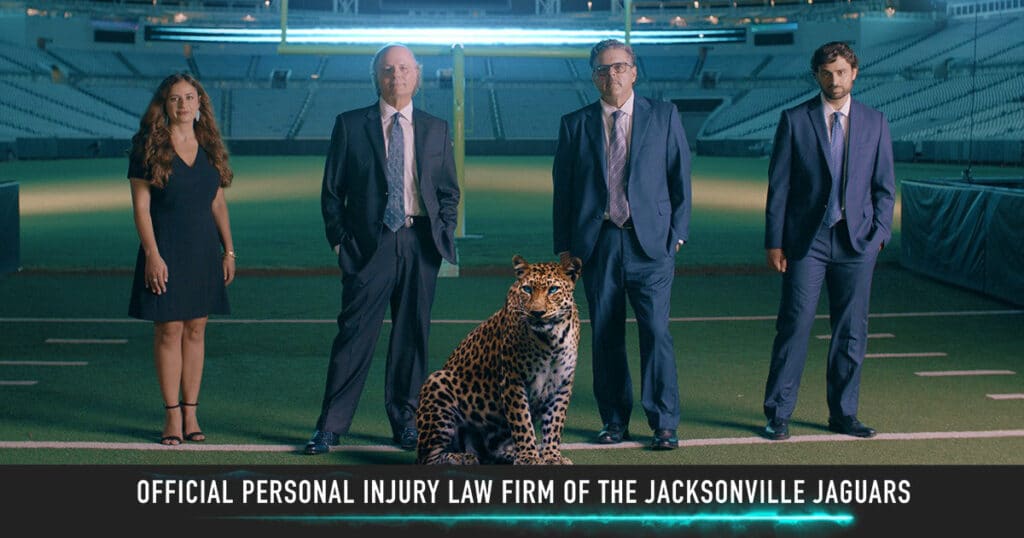 Another great example of their partnership is the law firm's billboard in support of the Jaguars:
Davis Law Firm and the San Antonio Spurs
If you have heard of the Davis Law Firm, you will know they are die-hard supporters of the San Antonio Spurs! Check out their commercial:
The Davis Law Firm and the San Antonio Spurs are a partnership made in Heaven, and they are not afraid to show their endorsement for the basketball team on social media. They sometimes support the Houston Astros baseball team.
Lawboss and the Dallas Cowboys
The Lawboss – Uvalle Law Firm is a proud sponsor of the Dallas Cowboys. Their supportive social media posts when the team plays are difficult to miss. With over 64,000 followers on Instagram, Lawboss' social media presence is a great marketing tool for the American football team.
Known as the "official personal injury attorney of the Dallas Cowboys," Lawboss uses its social media channels, including TikTok, to show support for the team and organize giveaways for the Cowboys' fans.
Lawboss' brand identity is closely tied to its Dallas Cowboys endorsement. Check out their Facebook page banner: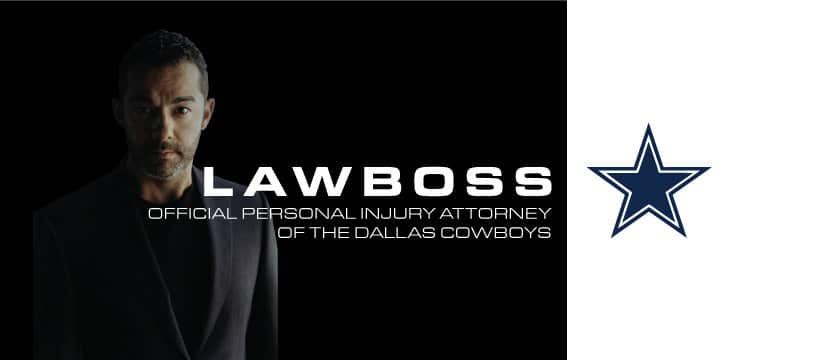 Like Lawboss, your law firm can also take advantage of partnering with a sports team which means a win-win marketing opportunity!
---
Takeaways
It is clear that the sports industry is a multimillionaire business that attracts diverse audiences, especially the Hispanic community. To take advantage of sports sponsorship is to leverage your marketing presence in this diverse and ever-growing market.
But in order to effectively use sports sponsorship as a marketing opportunity, you must be culturally sensitive and connect in more personal ways with digitally robust strategies that include alliances with influences and sports personalities.