Google has widened its LSAs ad unit, making it available to more Law Firms. Here's what it takes to start showing your Local Services Ads.
LSAs (Local Services Ads) have been around for a while now, with great success in some verticals, such as HVAC and home services. Still, the legal vertical had only been in BETA testing with Immigration and Estate Planning Attorneys in Houston and San Diego. In late July 2020, this changed, and LSAs are now available for 17 practice areas nationwide. In this article, we'll guide you through the process of applying, and we'll cover everything that we know so far for Google Local Services Ads for Law Firms.  
In a previous blog, we covered the basics of LSAs, you can read all about it here.
What are the 17 practice areas you can show LSAs?
Bankruptcy
Business
Contract
Criminal
Disability
DUI
Estate
Family
Immigration
Personal Injury
Labor
Litigation
Malpractice
Intellectual Property
Real Estate
Tax
Traffic
What are the steps to apply for LSAs?
The first step you have to take is visiting Google LSAs to initiate your application. There, you'll need to select your vertical (lawyer), add your State and Zip code, and finally, select the practice area for which you want to start showing your Law Firm's Local Ads. 
Once you do that, Google will confirm your initial eligibility and ask you to add your email. Pay attention as this will be the email you'll be receiving all your relevant emails, leads, and billing. If you already have a Google Ads account, you can log in with your credentials and your Google Ads billing will be linked to your LSA account, which is pretty convenient.
Your next step is all about your business details. You can find the detailed requirements in the screenshot below. Be careful; this information has to match your official data; otherwise, Google might reject your application for your Law Firm's LSAs.
Once you finish with this configuration, you'll have to set up your service area. Select your local area based on the places you can serve.
According to your initial selection of desired practice areas, you will be prompted to select your Law Firm's service types for LSAs. You can see an example of available services for Personal Injury Attorney LSA service types in the screenshot below.
Did you notice the disclaimer at the bottom? It's a crucial component of what will follow after the initial application process.
The last part of your application ends with service hours. Be precise and accurate on what you choose as Google will only show your Local Ads your operational hours. If they notice unanswered calls or form submissions, they might penalize you or exclude your Law Firm from LSAs.
But that's not the end of the application process. Part of LSAs is a screening process, ensuring that your business is legitimate. You and other lawyers in the firm hold all the necessary licenses. Your personnel is compliant, and all your data is updated and accurate. Let's see what additional paperwork you'll need to submit.
A headshot that Google will use for your Ad.
Your Licence details (yes, we know there is no expiration date on your license, we've notified Google).
Then you have to move to the Background check section. There you add again all your business information (the info has to be identical to what you entered previously and accurate). Google uses an external provider for this process, and Pinkerton will notify Google if you pass or fail the checks. The additional data include your social security number, tax filing number, driver's license copy (front and back), and the office location's move-in date. 
As soon as you are ready, you'll move to the reviews part.
Then you'll set your budget for leads.
And finally, you'll have to set up your billing information unless you used your current Google Ad account to open your LSA account.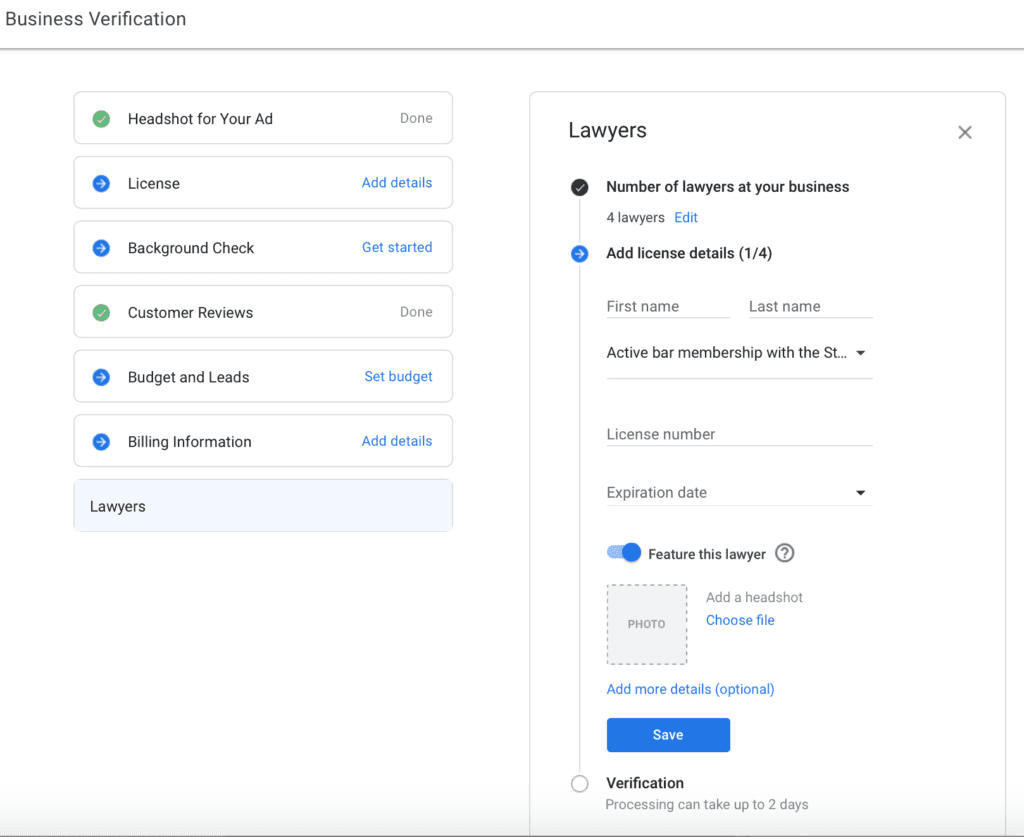 What will determine your ranking within the Local Services Ad unit?
Your review score is the first deciding factor. Google will consider your GMB reviews, and as you grow into LSAs will highlight your internally generated score.
Your responsiveness to customers. You have to stay alert, always pick up the phone promptly, and respond to form submissions efficiently. Google will penalize you for missed CTAs as it calls for poor customer experience, while it will also charge you for the lead that you didn't end up converting on the spot.
Another factor is your Law Firm's proximity to the prospective client's location.
Your business hours. Your ads won't show up at hours that you didn't select during your application.
Finally, if you received repeated complaints about your business or not will also determine your ranking.
What's the most significant difference between the legal vertical and others as of now?
Home Service businesses get the Google Guaranteed badge as soon as they get approved for Local Services Ads. But what happens with Law Firms? You will go through the same process, but Attorneys receive the Screened badge instead. As of now, the difference is that Google Guaranteed offers clients a money-back policy if they were dissatisfied with the service provided. Of course, this goes through a verification process and covers a maximum of $2000 lifetime. Google has not confirmed if Attorneys will be considered for the Guaranteed program in the future or not. Furthermore, for the Google Guaranteed badge, you don't need to be an advertiser whereas for the Google Screened badge you do.
Here is how an LSA for Estate Attorneys in Austin, TX, looks on mobile.
And here is how it looks like on desktop.
What do you have to pay special attention to?
You or your competitors don't create your Ad Copy, which gives less room for personalization and fewer ways to stand out.
So far, it isn't possible to show Local Services Ads for your Law Firm in Spanish. Hispanics represent one of the most significant opportunities for your Law Firm, and targeting them through PPC is the most effective way to sign more cases from the specific demographic. If you want to increase your caseload with more Latinx clients, don't hesitate to contact us.
---
Conclusion:
Google LSAs are available for the legal vertical, and they present an excellent opportunity for Law Firms to target their local prospective clients through an additional ad format. At Nanato Media, we see it as a complementary tool to your strategies, a way that will allow you to cover more space on the SERPs. If you invest in a holistic approach, you will have your LSA right at the top of the page without any personalization. Your Search Network Ad right below, and if you are in the local pack and the organic results, you'll appear four times on the first page results. Additionally, the Google screened badge is expected to increase customer trust and enhance your brand image.
We'll keep monitoring the new developments, and we will update this article whenever necessary.
If you need help with your Law Firm's LSAs, don't hesitate to contact us.